Nigeria's Siasia credits players for win in Madagascar
By Oluwashina Okeleji
BBC Sport
Last updated on .From the section Football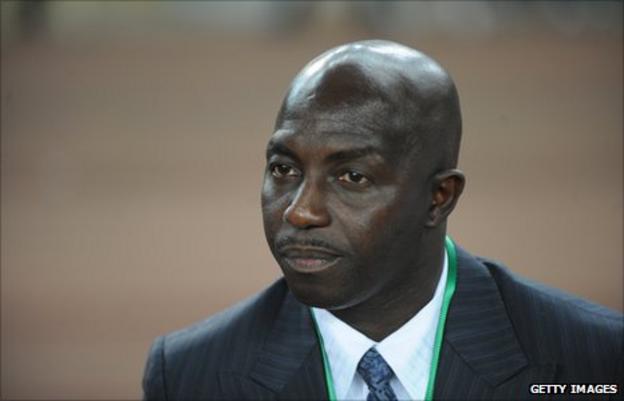 Nigeria coach Samson Siasia has given the credit for Sunday's 2-0 victory in Madagascar to his players.
The Super Eagles overcame atrocious playing conditions to triumph in the last 20 minutes with goals from skipper Joseph Yobo and a sensational effort from Obinna Nsofor sealing a much-needed win.
But despite making a timely tactical switch to account for the bad turf, Siasia refused to take the credit
"I just want to say thank you to the players, they did very well because it is not easy playing under these kind of conditions," he said.
"But they did not panic, they did not lose focus and they did everything we asked them to do, even when things were not going our way in the first half."
Captain Yobo again scored the opening goal after 68 minutes, and his coach had plenty of praise for him.
"He is a real leader. He was always there in the box for set pieces and corner kicks and he kept giving them problems with his ability in the air," Siasia said.
The battle for the ticket to the 2012 Africa Cup of Nations will come down to the final day, where the Super Eagles will need to beat Guinea by at least two goals to top the group on head-to-head - after Guinea beat Ethiopia 1-0.
Nigeria's victory also came at a cost as striker Victor Anichebe picked up a groin injury in the final minutes and is unlikely to travel with the team to Bangladesh for their friendly against Argentina on Tuesday.
Anichebe was attended to by the team medics and could be out for up to three weeks. The injury left Siasia disappointed for the player.
"It is very sad for him," he said.
"He was huge for us today. He did all the rights things, played well and unfortunately, had to come up in the last three minutes with an injury. But that's football.
"It's very unfortunate, but I hope he gets well soon so he can continue to feature for his club [Everton].
"That pitch was not very good and we are lucky our players did not get serious injuries.
"Hopefully, Anichebe will be fine after getting some medical attention. Our thoughts will be with him."