Bolton boss Owen Coyle urges Gary Cahill to ignore transfer gossip
Last updated on .From the section Football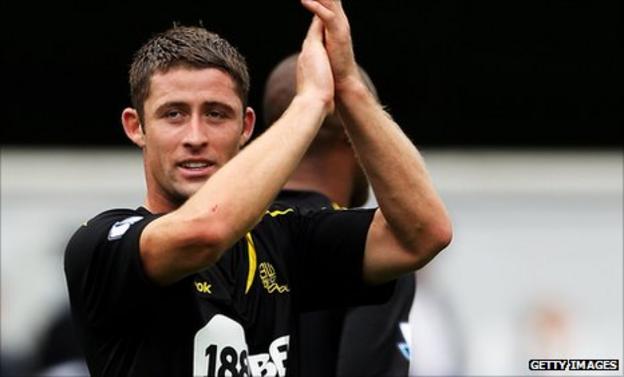 Gary Cahill must forget about recent transfer speculation if he is to hold down his England place, according to his manager at Bolton, Owen Coyle.
Arsenal and Spurs were both recently reportedly interested in signing him.
The 25-year-old was hugely impressive during England's 3-0 win over Bulgaria.
Coyle said: "The reason he was in the squad was because of his performances for Bolton and that is what he has to continue to do to become an integral part of Fabio Capello's squad."
With his Bolton deal expiring next June, Cahill is expected to be the subject of more speculation during the next few months.
And while Coyle accepts it will be difficult for him to hang onto Cahill, he does not have any concerns about the former Aston Villa man's focus.
"There might have been a tinge of disappointment as there was a lot for speculation about this protracted move he was going to have," Coyle said.
"When that didn't come to fruition it said a lot about him in terms of mentally preparing himself (for international duty) and besides the goal he put in a huge performance for England.
"To have a Bolton player score a goal for England for the first time since 1959 is a fantastic achievement and I'm delighted for Gary as well."
In January, Cahill will be able to speak to foreign clubs about a move and at the end of the season he can leave the Reebok Stadium for nothing.
While Coyle has not ruled out offering him new contract he knows the player is keen to test himself in the Champions League.
He said: "Gary is in the driving seat in regards his contract and speculation won't go away but it doesn't faze me.
"If something comes hard and fast and concrete then I'll deal with it head-on - we've been very open regarding the situation."