Why Wales have a need for Speed

By Robbie Savage
Former Wales midfielder and BBC pundit
Last updated on .From the section Football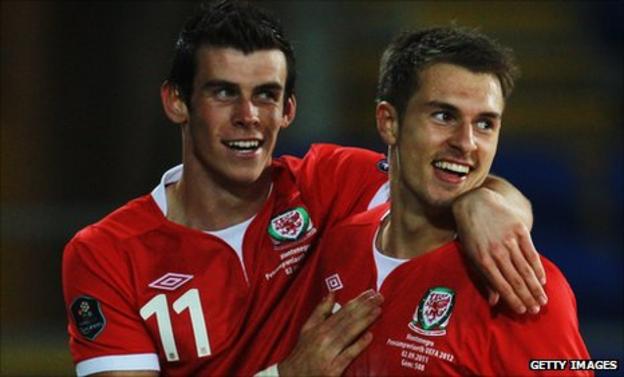 It pains me to say it but, with the best will in the world, I cannot see Wales beating England at Wembley. Even a draw will be beyond them.
Wales' win over Montenegro on Friday was huge and will do them a lot of good.
But although they will be full of confidence on Tuesday night, it is a massive blow for them to be without two of their most influential players in David Vaughan and, especially, Craig Bellamy.
For me, the best-case scenario for Welsh boss Gary Speed and his side is that they avoid the sort of one-sided defeat they suffered in Cardiff in March.
In that game, Speed tried to play the ball out from the back instead of putting the ball in the channels and they also failed to lay a finger on England.
There were no ferocious tackles and they weren't in their faces. Not only did Wales fail to get out of their own half and threaten England, they let England move the ball around at the back without ever putting any pressure on them.
Basically, they tried to outplay England, and it didn't work because England have better players.
I don't think that will happen this time, though. You can see from the way Wales played against Montenegro that Speed has learned from that defeat.
| Wales | vs England (26/03/11 | vs Montenegro (02/09/11) |
| --- | --- | --- |
| Total passes | 481 | 395 |
| Successful passes | 372 | 294 |
| Passing accuracy | 77.34% | 74.43% |
| % Passes in own half | 56.94% | 37.53% |
| % Passes in opposition half | 43.06% | 62.47% |
| % Short passes | 89.40% | 80.76% |
| % Long passes | 10.60% | 19.24% |
| Total shots attempted | 3 | 14 |
| Shots on target | 0 | 7 |
On Friday night, they were more ambitious, more attacking and had much greater penetration. Speed had his team organised fantastically well against Montenegro, and you can already see the effect he is having on the players.
He is still getting Wales to pass the ball but he is doing it in the right areas now. He will know that he has not got the quality throughout the team to pass it back-to-front like they were trying to do.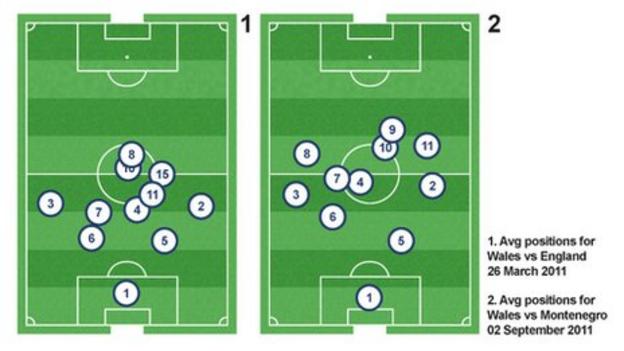 What they must do at Wembley is get the ball to Aaron Ramsey or Gareth Bale and, when England have possession, make it into a Premier League game by getting physical and keeping things at a high tempo.
Being realistic, though, getting anything from Wembley will be a step too far. Yes, Montenegro were joint top of Group G when Wales played them but Fabio Capello's side will be on a high, knowing qualification for Euro 2012 is within their grasp. If both teams play to their potential then England will win by two or three goals.
The big thing for Wales now is to build for their next campaign, which is qualifying for the 2014 World Cup. They are in a tough group but, as a Welshman, I am looking forward to it because I think we have got a great chance.
What Gary is doing now reminds me of when Mark Hughes was manager and I was part of the Wales team that almost qualified for Euro 2004.
We only won one game under Hughes when we failed to qualify for the 2002 World Cup, and statistically we were one of the worst Wales sides ever.
But there was a turning point - when we drew with a strong Argentina side and beat a full-strength Germany team - when we realised we were not such a bad side after all.
At the start of the next campaign we were unbeaten in our first four matches and were playing exceptionally well. We were playing in front of packed houses at the Millennium Stadium and I remember before we beat Italy being so confident that we could do it.
The current Wales side needs to start building that belief up now, because that is a huge factor, and I believe Speed is the right man to give it to them.
Under Hughes, we played a system which got the best out of the players we had. We had John Hartson up front, Bellamy and Ryan Giggs down the wings and myself, Mark Pembridge and Simon Davies as the midfield three. Speed played at left-back.
He is doing the same with his squad now he is manager, playing in a way that gets the most out of Bale, Ramsey and Bellamy too.
But, just as importantly, he is getting them to play for him, just like Hughes did. Hughes used to say that his Wales players wanted him to succeed, and he was right.
Speed was captain when I played for Wales and there was huge respect for him among the squad. I know how the players feel about him now too, and I know they will run through brick walls for him while he is in charge.