England skipper John Terry defends Andy Carroll lifestyle
By Phil McNulty
Chief football writer
Last updated on .From the section Football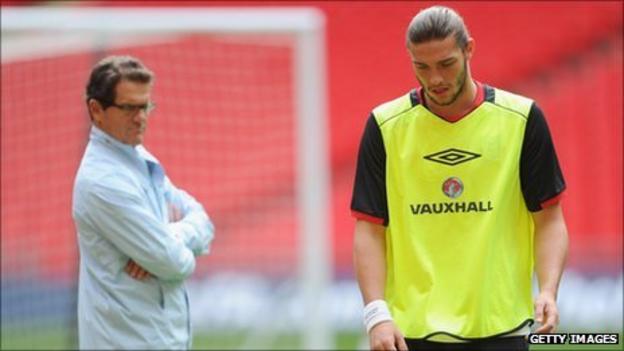 England captain John Terry admits he has sympathy with striker Andy Carroll after concerns were raised about the Liverpool striker's lifestyle.
Liverpool's £35m signing from Newcastle United was not named among the substitutes for England's 3-0 win in Bulgaria on Friday - but coach Fabio Capello denied claims that he felt Carroll drank too much.
Capello confirmed he had spoken to the 22-year-old Carroll "privately" and warned: "He needs to be careful because he's an important player for England and Liverpool."
Terry offered words of support for Carroll, who has struggled to make an impact since his move to Anfield because of injury and has not been a regular started under Kenny Dalglish so far this season.
"He's a young player at a very big club with a really good future," said Terry. "He's still got to enjoy his time away from football and I'm sure he will.
"Andy is a really good pro on the pitch and a good guy to have around the camp. I've been there. I've made my mistakes as well, maybe drunk a little bit too much when I was younger and gone out a little bit too much.
"But I think having gone through that, when you hit 26 or 27 you think, 'I'm glad I did that then because I don't want to do it now'."
The Liverpool striker was pictured in the summer partying on holiday in Barbados and Capello added: "I don't know anything about his lifestyle. It is a private problem that I never spoke about.
"But if he wants to be a good player and a good sportsman, he needs to drink less than the others."
Carroll scored his first senior international goal against Ghana at Wembley in March, but has since missed the Euro 2012 qualifier against Switzerland and the European Under-21 Championships because of injury.
But Capello insists he still sees the Gateshead-born frontman as a vital part of his squad.
"He is not at the top of his form at the moment but he was fantastic in the last two training sessions," said the coach.
"I was really happy with him and told him he needs to do the same when he goes back to Liverpool."
Former Newcastle and England captain Alan Shearer said he thought it was unwise for Capello to speak publicly about Carroll's situation.
"I'm not too sure if I'd be happy if my manager told me to stop drinking and then goes to the media and tells them what he has just said," Shearer told BBC Radio 5 live.
"It's one thing saying it in the dressing room which the manager has every right to do, because he knows what is best for you as a player and he can improve you as a player, as Capello can. But I'm not too sure Andy will be best pleased with him coming out and saying that.
"Andy is big enough and strong enough to take it on board. He is a sensible individual. Yes, he does like to have a good time but he's a very good professional.
"He will get it right. He's at a great football club and he's got a great manager in Kenny Dalglish to point him in right direction. The main point is he's still a young lad and he can learn and still improve."