Fifa 'conspiracy' angers banned Mohamed bin Hammam
By Gordon Farquhar
Sport news correspondent
Last updated on .From the section Football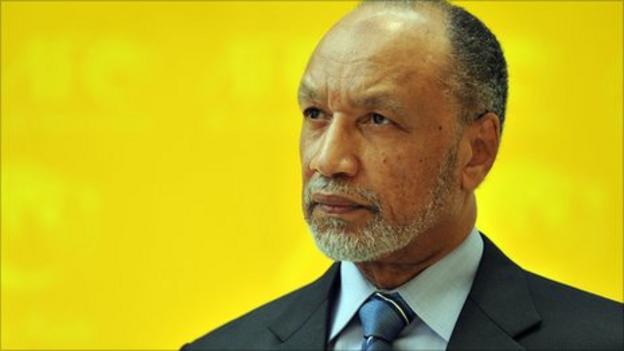 Former Asian football president Mohamed Bin Hammam has repeated in a letter his claim that there was a conspiracy to have him banned from football.
He makes a string of allegations and accusations against Fifa figures, including its president Sepp Blatter.
The 62-year-old Bin Hammam says that if he had been a European, Fifa would not have dared "lay a finger" on him.
The Qatari also accuses Fifa figures of insulting and harassing members of the Caribbean Football Union.
In July, the former President of the Asian Football Confederation was banned from football for life after being found guilty of attempted bribery.
His three-page letter is addressed to Petrus Damaseb, the deputy chairman of Fifa's Ethics Committee, who chaired the committee that found the Qatari guilty of breaches of the world governing body's ethics code.
In the letter, Bin Hammam questions the integrity of Judge Damaseb and Fifa's general secretary Jerome Valcke, as well as Blatter.
"Were I a European, or were the Caribbean part of Europe, neither Blatter nor Valcke will dare lay a finger on us," writes Bin Hamman addressing Damaseb.
"Were we Europeans, you would have never been given the opportunity to chair this ethics committee panel and slaughter people left and right, as you have done."
Bin Hammam says he is motivated by a desire to safeguard the dignity of 16 Caribbean Football Union (CFU) members being investigated over alleged breaches of the Fifa ethics code at a campaign meeting organised this year in support of the Qatari's bid for the Fifa presidency.
"I have never tried to bribe people and all the attendees of that CFU meeting are sure of this fact and you, yourself, heard this from all the witnesses that you and Valcke brought to testify against me," said Bin Hammam in his letter.
"Nobody in this world will believe that Valcke and Blatter are qualified to fight any sort of corruption.
"If they are serious about fighting corruption, they should have the courage to volunteer themselves as the first subjects of such investigations on the allegations raised against them since years until today."
Written on Asian Football Confederation (AFC) branded paper, the letter has been published on Mohamed Bin Hammam's website, with the Qatari signing off as the "President of the Asian Football Confederation".
The AFC's own website acknowledges Zhang Jilong of China as acting president and makes no mention of Bin Hamamm's continuing involvement in the organisation.