Fenerbahce wait for Uefa ruling on Champions League ban
By Matt Slater
At the European Club Association general assembly in Geneva
Last updated on .From the section Football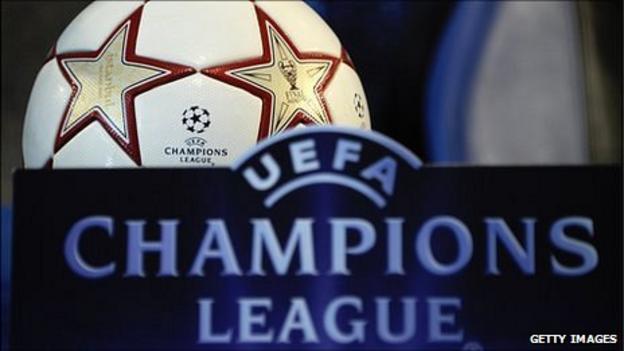 Fenerbahce are waiting to discover if Uefa and the Turkish Football Federation (TFF) will be reinstate them in the Champions League.
Chairman Aziz Yildirim, as well as 25 players and officials, have been charged in the case.
Club lawyer Emin Ozkurt insisted "basic principles of law" were at stake.
He said: "Those include the presumption of innocence and the right to defend yourself.
"These allegations are just that, allegations. There may be several charges against the club or there may be none.
"The case is still pending in Turkey so there has been no final or binding decision on which to base our exclusion. We are still the champions of Turkey."
As well as taking their case to the Court of Arbitration for Sport (CAS), Fenerbahce are also lobbying the other members of the European Club Association (ECA) at its general assembly in Geneva.
Ozkurt added: "When we explained our case on Tuesday, the other clubs were shocked. They had heard only one side of the story and now understand our position."
Fenerbahce have called on CAS - the highest court in sports law - to make a "preliminary" ruling that would see them returned to the competition in time for next week's opening games.
Turkish runners-up Trabzonspor were given Fenerbahce's Champions League place and were drawn against Inter Milan, CSKA Moscow and Lille in last month's draw.
Fenerbahce say it is not up to them how Uefa resolve the issue - Ozkurt suggested one group could even have five clubs - but, if the Turkish club is kept out, it will press for financial compensation of £39m.
The club are particularly aggrieved that the case appears to have been settled by Uefa while Trabzonspor's involvement in the alleged match-fixing has been overlooked.
Fenerbahce have already felt the consequences of their European ban as many of their best players left the club during the summer transfer window, with Andre Santos joining Arsenal and Diego Lugano moving to Paris St Germain.
The Istanbul-based club say they are eager to put this episode behind them and have even offered to accept relegation to Turkey's second tier this season.
That request was turned down by TFF and any possible demotion will come next year.
Fenerbahce were crowned league champions last term, pipping Trabzonspor to the Turkish title with a dramatic 4-3 win at Sivasspor on the final day.