Alan Shearer on why Arsenal's problems are not over yet

By Alan Shearer
BBC Sport pundit
Last updated on .From the section Football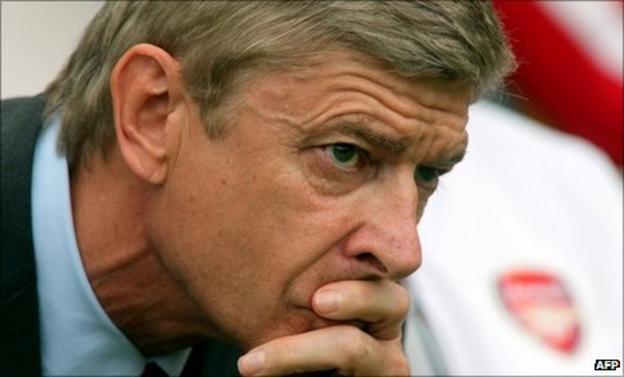 It would be naive for people to think that Arsenal's problems are over simply because manager Arsene Wenger finally brought in some new players just before the transfer window shut.
Yes, Wenger has strengthened his squad, which he needed to do. All five players he signed shortly before the deadline have experience, which is what people were saying they were missing, particularly in defence.
And in Mikel Arteta they have a real gem who gives them some real quality in midfield now that Cesc Fabregas and Samir Nasri have been sold.
But Arteta and the others do not turn Arsenal back into title contenders.
I still think they will find it difficult to get into a Champions League slot. In fact, I see them fighting it out for fifth and sixth place with Tottenham. If they are going to end their trophy drought, their only hopes are the FA Cup or Carling Cup.
And the pressure is still on Wenger. This weekend is our first chance to see teams in the Premier League since their deadline-day business and all eyes will be on Emirates Stadium for the Gunners' game with Swansea City on Saturday.
Previously, Wenger came in for a lot of stick for not buying anyone, so now the players he has bought - Arteta, Per Mertesacker, Andre Santos, Yossi Benayoun and Park Chu-young - will come under scrutiny.
I don't think that will bother Wenger. Whether he gets praised or criticised doesn't affect him. But this is still a crucial few weeks for him and his team.
They have had a tough start, something they have not had to contend with too many times during Wenger's reign, and it will be interesting to see how they cope.
What won't help is that Arsenal have a couple of important players injured in Jack Wilshere and, now, Thomas Vermaelen, when they need to bed these new players in too.
But what they have to do most of all, beginning on Saturday, is start to get results. The sooner they do that the more confidence they will get and, with their new players, things will build from there.
One team who did not make the late signings that some of their supporters wanted were my old side Newcastle.
There was a lot of speculation over whether they would spend some of the £35m they got from Liverpool for Andy Carroll in January, but I was not surprised when the Magpies did not bring a striker in because of the number of forwards they already have on their books.
Do I understand the fans' frustrations? Well, they are not unhappy at the moment because, unlike Arsenal, they have made a good start. I just hope they can sustain it.
Newcastle have got a tricky game at QPR on Monday, though, when they could come up against one of their former players in Joey Barton.
Barton can be an important player for them and by adding him, Shaun Wright-Phillips and Luke Young to what they already had, I think they might have enough to stay up now. It is definitely a much tougher game for Newcastle than it would have been before those signings.
QPR did very well in the transfer market but the club which impressed me most on deadline day was Stoke.
They spent more than £20m on Peter Crouch, Wilson Palacios and Cameron Jerome and their manager Tony Pulis just keeps adding quality to his squad. The Britannia Stadium was already a hard place to go before they brought those three guys in, and it will be even more difficult now.
At the other end of the scale, Everton had to deal with losing Arteta. Along with Owen Hargreaves joining Manchester City, that was probably the most surprising move of deadline day.
Everton are another club facing some discontent among the fans over the lack of investment in the side and Arteta will be a huge loss to them.
I don't know much about the two players the Toffees have brought in, Dutch midfielder Royston Drenthe and Argentine striker Denis Stracqualursi, but what I do know is that in David Moyes they have a fantastic manager.
It might be a difficult season for Everton, but they have the right man in charge to see them through.