Off The Bawl - 3 September 2011
Last updated on .From the section Football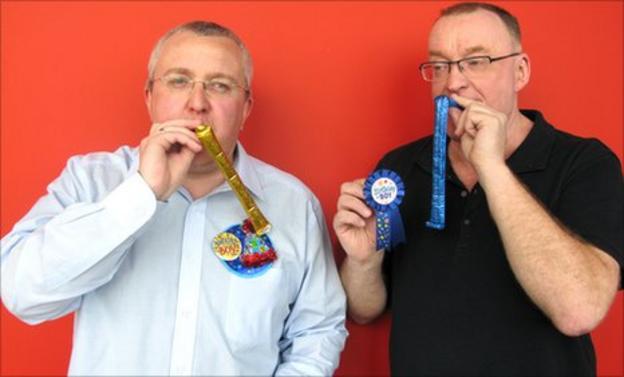 Greeeeeetings!!! Former Aberdeen boss Jimmy Calderwood was forced to pull out of Saturday's show due to a back injury ("No doubt caused by overstretching while playing pocket billiards," suggested Kenny in Dunfermline) so we drafted in his body double... Russell Latapy.
The former Hibs, Falkirk, Dundee United and Rangers favourite who played into his 40s, collected about 350 international caps with Trinidad & Tobago and regularly enjoyed a fly puff, was joined in the studio by Dunfermline's singer-songwriter legend Kevin Rutkiewicz.
So, two cult characters - but what other ones did the Off The Ball listeners want to pay tribute to?
On the day that Scotland faced the Czech Republic at Hampden (did you know that Dutch ref Kevin Blom had been in Scotland the previous week to sit on the jury at Edinburgh Sheriff Court?) we also discussed all things "Czech".
And, as a tribute to Mr Rutkiewicz who sang us out of the show on his guitar, out Team of the Week was The Musical Instruments XI.
Here's a selection of the most petty and ill-informed texts and emails on radio...
CULT CHARACTERS
Ryan in Clermiston said: "Russell Latapy is the ultimate cult character for all Hibs fans and he'll always be remembered for his performance in the 6-2 hammering of Hearts. His one-two with Big Mixu gives me goosebumps every time I watch it."
Ally Lang in Sydney said: "I remember bumping into Russell after an Old Firm game in Glasgow when quite a few players from Spurs and Newcastle had come up for the game. Star-struck as I was at seeing a variety of players from the Premiership, I was like a wean when I saw Russell at the bar. And what a gentleman! After introducing myself, he joined me outside for a cigarette and some Hibee chat. Legend!"
Dougie the Arab from Dundee said: "Cult player at Tannadice? Hamish McAlpine. Whenever the chant went up "Hamish, Hamish, Show Us Yer Bum!" he always obliged. What a character."
Tudar in Leith said: "Willie Johnston was a bit of a cult hero at Hearts. He once ended up in a puddle at Tynecastle near the corner flag that was the size of the Commonwealth Pool and he amused the crowd by doing the breast stroke all the way back out."
Graham in Montrose said: "What about Ivo Den Bieman for the mighty Montrose? When we signed him, he was the only foreign player in the whole of the Second Division."
Alan in East Kilbride said: "My cult player for Rangers is Ted McMinn. During an all-Spanish UEFA Cup Final a few years ago between Seville and Espanyol, the BBC asked some Spanish fans what Scottish football meant to them. A Seville fan looked straight into the camera and yelled: "Ted Meek-meen!!!" I nearly fell off the couch laughing."
Dave Furneaux said: "I nominate Dougie Bell of Aberdeen. I remember him nutmegging Kevin Keegan and ghosting past Mick Channon in a pre-season friendly against Southampton and he also tore Watershei of Belgium apart when we beat them en route to the 1983 Cup Winners' Cup final."
Gary in Stewarton said: "What about Barry Lavety at the Buddies? A man the size of Ben Nevis with a hunger not for goals, but for pakora."
Russell Steel in Carnoustie said: "Billy Pirie at Dundee. Legend. He never once missed a penalty."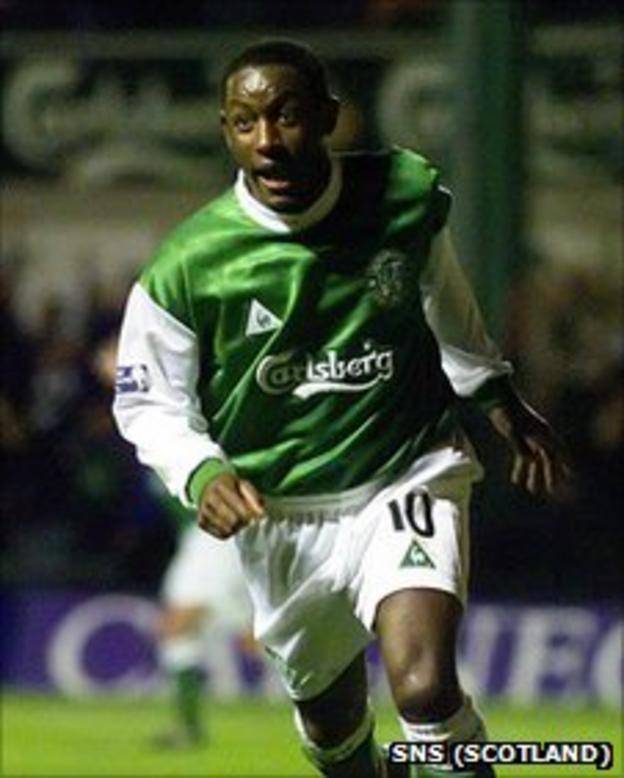 Lee in Carnoustie said: "A cult hero at Gayfield was Charlie Adam Snr - he swaggered and occasionally staggered through every game."
Anon said: "A Livingston cult hero was Oscar Rubio. Everytime he touched the ball it ended up outside the stadium. Whenever the ball is kicked out of the park these days it's referred to as a Rubio."
Danny in Kilmacolm said: "What about Hugh "Shuggy" Sproat of Ayr United and Motherwell who sported a razor blade earring, enjoyed mazy runs outside his box and wore a blue jersey against Celtic and a green top against Rangers - just to wind up the Old Firm fans."
Anon said: "Highland League outfit Keith have a legendary keeper called Ian Thain who's known as The Goalie. That's because he once let 10 in against Rangers."
Alan in Edinburgh said: "Cult figure at Celtic was Lubomir Moravcik - remember the time he trapped a long ball with his bahookie?"
Anon said: "Annan Athletic's cult hero is Sconnie Dalgleish. He was also a semi-professional boxer, so a man not to be messed with on or off the pitch."
Garry said: "Marvin Andrews surely fits the bill as a cult character. He attended the Zion Praise Centre in Kirkcaldy. Surely a cult if ever there was one!"
TEAM OF THE WEEK
The Musical Instruments XI
(aka Shotts Bon Accordion)
1/ Marian Cello
2/ Hamish French Horn
3/ Claude Ukelele
4/ Dougie Bell
5/ Kevin Lutekiewicz
6/ Oboe Balde
7/ Pat Nevin (he's got a big bugle)
8/ Andreas Thom-tom drum
9/ Didgeridoogie Arnott
10/ Momo Vuvusylla
11/ Jimmy Trombone
Sub: Alan Combe & Paper
Players' agent: John Viola
"CZECHS"
Shaun from Nottingham said: "When I was at school in the 70s, the word "check" was a mocking term when folk were looking at your new gear ("Check his shoes!" etc). Remember that?"
Graeme the Arab said: "What about a "glass cheque"? That was the money you got back on an empty lemonade or "ginger" bottle. Does that still happen?"
A few mintues later, we received an email that read: "Yes, you now get 30p back on empty ginger bottles." That came from a Mr Craig Whyte in Govan...
THE OFF THE BALL MYSTERY
Last week, on the back of Bobby Petta appearing as an extra in the Brad Pitt zombie movie, we asked you to name some other films that may have starred some of Scottish football's greats.
And the pick of the bunch was emailed by Boaby the Barman from Motherwell...
Kenny Dalglish in The Last King Of Scotland.
Allan McGregor and Barry Ferguson in Dumb and Dumber.
Graeme Souness in The Pianist.
Craig Whyte in Raging Bull.
This week's mystery...
If the answer is £9m, what is the question?
AND FINALLY...
After taking a trip down memory lane and talking about the type of loo roll that used to look like tracing paper, Stuart Cosgrove was delighted to receive an email from Kenny in Boston who said: "We used to get ration packs of that stuff in the army and we called it John Wayne Paper as it took no crap off nobody..."
To join in the fun on this Saturday's show, call 0500 929500, text 80295 or email offtheball@bbc.co.uk