Football League considering Argyle deal says Heaney
Last updated on .From the section Football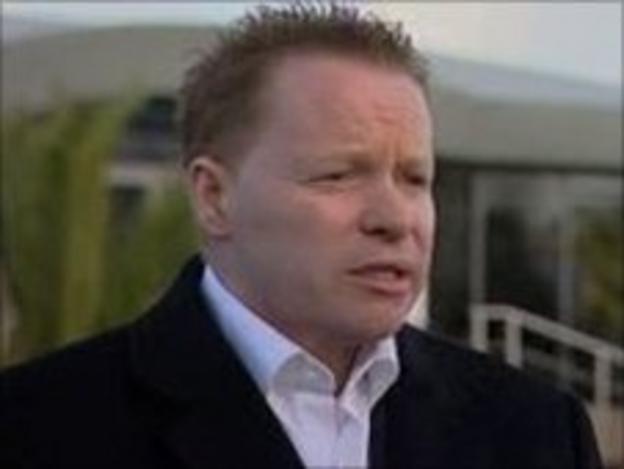 The businessman leading a bid to bring Plymouth Argyle out of administration says that the Football League are all that stands in the way of the deal going though.
Kevin Heaney says Bishop International has the funds to complete the deal.
"Proof of security has been provided to the administrator's lawyers and it's up to the Football League to accept that position," he told BBC South West.
Acting-chairman Peter Ridsdale would then buy the club for a nominal fee.
On his purchase of the club, Heaney continued: "The Football League has to be satisfied that they (Bishop International) don't just have money today, but for the next year or two.
"It's a matter for the Football League to sanction the deal and I think they're meeting tomorrow (Thursday)."
Former Leeds United chairman Ridsdale is set to take ownership of the football side of the club once the deal has gone through.
Bishop International will own Argyle's Home Park ground and the land around it with Ridsdale then taking over the football side of the club.
And Heaney is confident that he has the credentials to turn around the fortunes of the ailing club.
"In Peter Ridsdale the club are very fortunate to have the best man in the UK to save a football club," he added.
"I feel confident that with him owning and running the club it will be a success, but it won't be an overnight process."
But Heaney says it is difficult to budget for a football club in the lower leagues, as so much of the funding comes through gate receipts: "The clubs in the real world have a kind of hand to mouth existence where gate receipts support the club.
"If every week 16,000 people go it'll boost the coffers, and I'd urge everyone to get behind the club, come to every game and support the club and put money back in the club," he said.
The Truro chairman again reiterated that he will have no part in the day-to-day running of Argyle.
"There won't be any conflict - I'm only to do with the land and development side," he said.
Under Football League rules no-one is allowed to be involved in the running of two clubs.
Heaney also quashed rumours that Truro City players had not been paid as "rubbish".