Dortmund hoping for Arsenal lift after domestic blip
By Raphael Honigstein
German football expert
Last updated on .From the section Football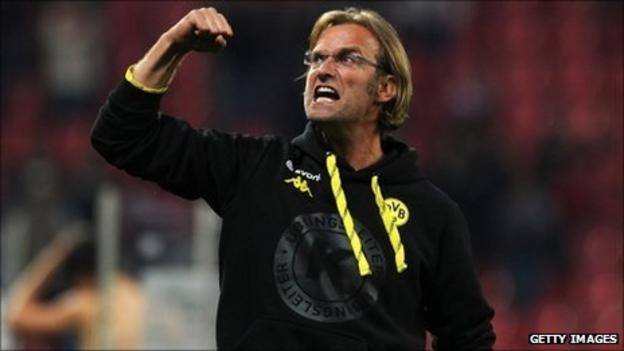 "They must have already had their heads on Tuesday's game," said Arsenal manager Arsene Wenger on Saturday after he was told his team's Champions League opponents Borussia Dortmund had just lost 2-1 at home to Hertha Berlin.
Alas, it was much worse from the German champions' perspective: a mere lack of concentration could not adequately explain one of their poorest performances in recent memory.
Jurgen Klopp's men not only lost their first home fixture after an unbeaten run of 18 games at Signal Iduna Park but a little of their momentum, too.
After the devastating dominance of last season's Bundesliga title victory and an equally awe-inspiring start to the new campaign - "I've rarely seen such a harmonious, well-combining team on the opening day of a season," said Germany manager Jogi Loew after Borussia's 3-1 destruction of Hamburg - some doubts have finally crept in.
For instance, will Dortmund struggle in their post-championship season as much as other surprise winners, such as Stuttgart in 2007 and Wolfsburg in 2009, did before them?
"I don't want to talk about a fundamental problem but we did lack creativity, solutions and calmness," said Klopp on Saturday, the weekend's results leaving them 11th. The 44-year-old added that negative experiences should be seen as "part of the team's development".
The very fact that any setbacks should come as such a surprise is probably a measure of the incredible progress made since Klopp took over in 2008.
Dortmund were just coming out of a boom and bust cycle that had left the club on the brink of insolvency and without the financial means to compete for the best German, let alone international, players.
However, sporting director Michael Zorc and Klopp combined young, home talents with two or three carefully scouted left-field signings, like Paraguayan striker Lucas Barrios - bought for £3.5m from Colo-Colo in Chile but currently injured - and Japanese midfield schemer Shinji Kagawa - a £300,000 acquisition.
They moulded them into a unit capable of employing a high-energy and relentless pressing game that overwhelmed many more star-studded opponents. In 2010-11, they had effectively sealed the title by February to become the league's youngest ever champions.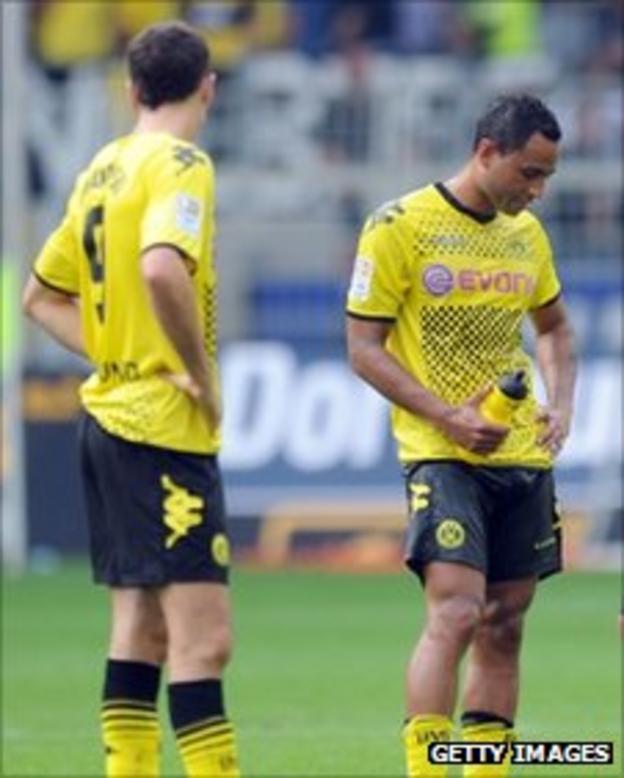 Dortmund lost captain Nuri Sahin to Real Madrid in the summer but avoided the feared squad break-up by investing inwardly. Attacking midfielder Mario Goetze, touted as Germany's answer to Lionel Messi after a devastating performance in a friendly against Brazil, was one of several leading players rewarded with improved contracts.
The 19-year-old will start against the Gunners on Tuesday, when Borussia will hope to find their rhythm again. The midfield, anchored by Sahin's replacement Ilkay Gundogan, a £3.5m buy from Nuremburg, looked bereft of ideas against Hertha. Even sections of Dortmund's 80,000-strong crowd uncharacteristically lost patience.
The mood should be more forgiving against Wenger's side.
It will be fascinating to see what Kagawa and Götze in particular can do at this level but Dortmund can approach the group stage without too much pressure to succeed. Unlike the 1990s, when they challenged Bayern Munich for domestic supremacy, won the Champions League and broke the bank in the process, their aim is simply to re-establish themselves as regulars in the competition.
Finishing at least fourth in the Bundesliga is more important than qualifying from the group, although new Arsenal signing Per Mertesacker believes Dortmund are "favourites to make the last 16".
Meanwhile, Chelsea's opponents, Bayer Leverkusen, would love nothing more than a first ever Bundesliga title but, in many ways, their fortunes have mirrored those of their black and yellow rivals in recent years.
After losing to Real Madrid in the 2002 Champions League final, it took the club nearly a decade to assemble a great side again in the wake of budget cuts by parent company Bayer.
Leverkusen, too, are thriving again thanks to combination of promising youngsters - wide man Andre Schurrle, 20, is the pick of the bunch - and smart buying abroad. Brazilian midfielder Renato Augusto has been so good that Michael Ballack, sole survivor from the 2002 final, is not a guaranteed starter against his former team-mates.
Of Germany's Champions League trio, only giants Bayern Munich can realistically entertain hopes of reaching the final.
But the general lack of competitiveness in Europe over a barren decade has not perturbed German supporters. As long as financial health and superstar squads remain mutually exclusive, they are happy to take affordable prices and democratic club structures over international success.
"I don't want to win the Champions League by posting a 100m Euro loss," Bayern president Uli Hoeness told the BBC in July.
That pragmatism might sound a little odd to British ears, but many Bayern supporters would probably concur.