Former England captain Paul Ince criticises attitude of current crop
Last updated on .From the section Football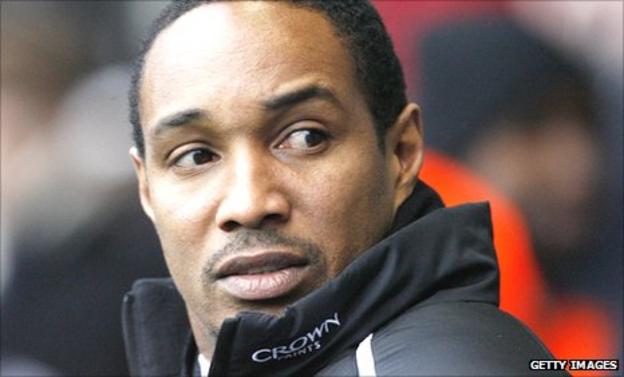 Paul Ince has launched a stinging attack on the England team, claiming players no longer consider it a privilege to play for their country.
"We're giving out caps like confetti," Ince told BBC Radio 5 live.
"Playing for England used to be the pinnacle of your career. Now it's not that important as we have the Champions League and Premier League."
The former England captain's comments come after England limped to a 1-0 win over Wales at Wembley on Tuesday.
The ex-Manchester United and Inter Milan midfielder believes players are also guilty of making excuses when it comes to representing the national team.
"If you get called up, you should make sure you're there. Nowadays, there are people who make excuses - they've got a knock, they're injured - because they want to be fit for that game at the weekend.
"When I played for England there were players who were in that squad every month, or every competition, but [because of the Champions League and Premier League] we now have 40-odd players getting caps. It's sad.
"Sometimes, when I played for my country, the boss at my club has said: 'Paul, this might be one worth missing. We've got a massive game on Saturday and the Champions League game on the Tuesday.'"
Ince also criticised England supporters for not creating a positive atmosphere within the stadium against Wales, and believes England are scared to play at Wembley.
"I can't remember from my time fans singling out a certain [England] player to boo, or have a go at. And it kind of sickens me.
"England expect to win when they go away, because there's not so much pressure on them.
"It looked like the Welsh were the home team. England were very, very cautious.
"England seem scared to play at Wembley," he added.
Ince was sympathetic to coach Fabio Capello, whose job he believes becomes tougher when players make themselves unavailable for England.
"It's hard for Fabio, or for Stuart Pearce with the Under-21s. You want your best players and you want England to go forward. When your best players aren't turning up it becomes hard.
"Whether these players, aged 18 or 19, now dream about playing at Wembley, I don't know. Or would they rather play against Barcelona in the Champions League final?"