Fabio Capello expected England to struggle against Wales
Last updated on .From the section Football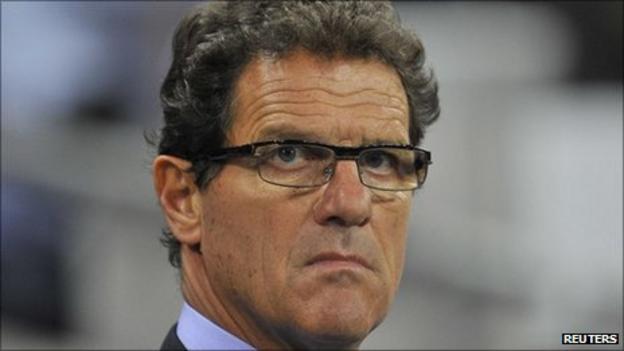 Fabio Capello has said England need to work on their mental approach to games after revealing he predicted a poor performance against Wales on Tuesday.
Capello said: "During my career I have understood a lot of things because of what happened in the warm-up.
"The problem was here," the Italian added, pointing at his head.
England, who are ranked fourth in the world, ended a four-match run without a win at the national stadium with a narrow victory against an impressive Welsh side, who are 117th.
However, the visitors could have left Wembley with a point had Cardiff striker Robert Earnshaw not missed an open goal from six yards.
And Capello believes the pressure of playing at Wembley and the fear of failure is affecting the players' confidence.
"We train very well. Everything is perfect," he said. "The players are really good. Then, when we are here [Wembley], it is different. We need to find a solution."
When asked if he knew England were in for a difficult game, Capello added: "It is between the players and me but yes.
"I know. It is my job. I know the players."
He tried to do lift the players when they returned to the dressing room for the final pre-match briefing, but admitted: "I tried. I spoke with the players but it was impossible to change the things I saw. Impossible."
Former England captain Paul Ince has suggested the problem is that players no longer consider it a privilege to play for their country.
England need just one point from their final Group G qualifying game against Montenegro in Podgorica on 7 October to reach next summer's finals, which will be held in Poland and Ukraine.
However, Capello insists he will not be playing for a draw. "No," he said. "It is not my style to be cautious."