Everton fans plan protest march against club's direction
Last updated on .From the section Football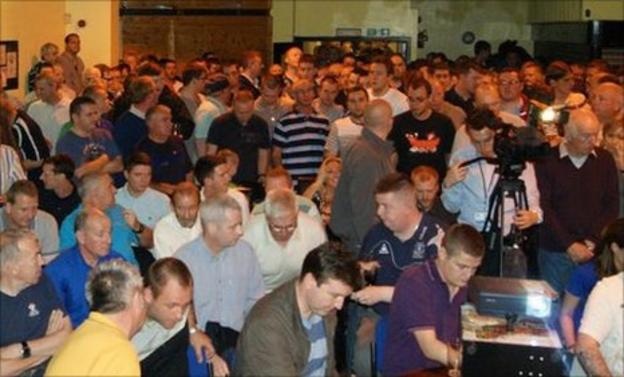 Everton fans' group The Blue Union is to hold what it calls a "peaceful protest march" against the direction of the club at Goodison Park on Saturday.
The Blue Union, who feel Everton are stagnating under chairman Bill Kenwright, hope hundreds of fans will take part before the game with Aston Villa.
"This is not a personal attack on Kenwright as our detractors claim," spokesman Joe Jennings told BBC Sport.
"We are protesting about the reasons we are unable to invest in the team."
Merseyside Police have granted permission for the march, which will start near the ground at 1400 BST and finish at the directors' entrance.
Everton sold Mikel Arteta and Jermaine Beckford to Arsenal and Leicester for a combined £14m on deadline day at the end of August but boss David Moyes made only three loan signings over the summer.
Kenwright has often stated his desire to bring new investors into the club and admitted last month that the Toffees could not borrow any more money, while the £9m they raised from the sale of their former training ground at Bellefield had gone straight to the bank.
The Blue Union say the group's aim is not to force Kenwright to leave but want the sale of the club to be taken out of his control.
In a statement announcing the protest, the group's members said they wanted to see Everton "appoint a fully autonomous group of professional individuals who can effectively develop and implement a strategy that will identify and sell the club to a buyer who can demonstrate an ability and a genuine desire to take the club forward on both a commercial and football level."
The Blue Union is a coalition of Everton supporters groups and independent websites, including Evertonians for Change, Keeping Everton in Our City, The People's Group and SOS1878.co.uk, who are concerned at the lack of investment in the club.
More than 400 fans attended its inaugral public meeting last weekend, when the plans for the march were laid.
Jennings, an officer of The Blue Union and editor of the SOS1878.co.uk fansite, added: "We hope as many like-minded Evertonians take the opportunity on Saturday to convey their unhappiness at the current situation.
"The Blue Union wish to tackle the issues not the individuals. It would be wrong to say we are simply protesting about the lack of investment in the team. No Evertonian wants the club to spend money they have not got.
"In any case, the club are in no position to do so because the current board have disposed of all the tangible assets. We're now disposing of the only assets which are left, the intangibles, the players.
"Evertonians want strong leadership and a strong board with a strong business plan."