FC Sion expulsion appeal date set by Uefa
Last updated on .From the section Football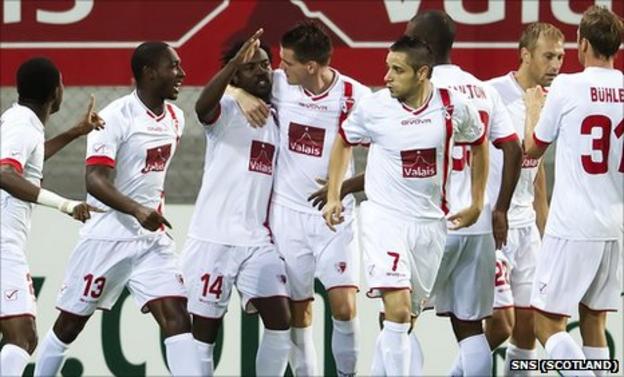 Celtic will discover if their Europa League reinstatement stands on Tuesday - two days before their scheduled opener against Atletico Madrid.
Uefa confirmed the hearing date after Sion submitted an appeal against their expulsion late on Thursday night.
The Swiss side are also pursuing the matter through the civil courts.
Sion, who beat Celtic 3-1 in qualifying, were thrown out of the competition after they were judged to have fielded ineligible players.
Sion had revealed on Monday that they planned to appeal and Uefa were expected to convene a panel on Friday, but the delay throws up even more uncertainty for the affected clubs.
Celtic, who are also due to face Udinese and Rennes, have already started selling tickets for their Europa League fixtures.
Sion say they have decided not to comment until the end of all their attempts to overturn their expulsion, adding that both "the Uefa appeal and many civil proceedings" are in progress.
They could also turn to the Lausanne-based Court of Arbitration for Sport if Uefa stand by their original decision.
On hearing of Uefa's decision to expel them, Sion said the verdict was "pure revenge" against their president Christian Constantin.
The Swiss side were handed a transfer embargo for breaching rules over the signing of Egypt goalkeeper Essam El-Hadary three years ago but the club and Fifa have different interpretations over the length of the ban.
Sion have already won a civil court ruling over the issue, allowing them to field the affected players in domestic competitions.
Celtic played both legs under protest and officially complained to Uefa after their defeat.
Meanwhile, Celtic manager Neil Lennon insists his side are fully focused on next week's game in the Spanish capital.
"I can understand where Sion are coming from," said Lennon. "We always felt they would appeal but we are preparing like normal for the three games we have coming up."