Chelsea want Didier Drogba to face Manchester United
Last updated on .From the section Football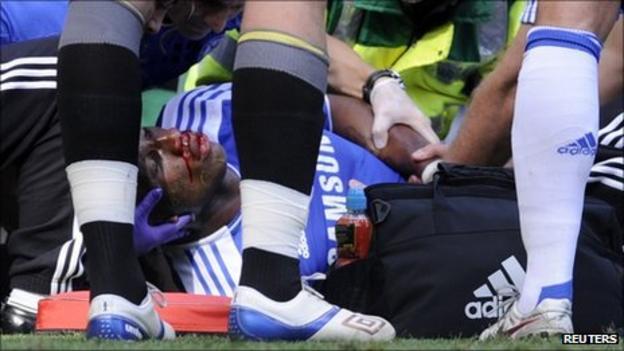 Chelsea manager Andre Villas-Boas plans to push Didier Drogba "to the limit" in an effort to get him fit for their game at Manchester United on 18 September.
Drogba will miss Saturday's trip to Sunderland and Tuesday's Champions League game against Bayer Leverkusen.
But Villas-Boas said. "Let's push it to the limit to try for him to be available for Manchester United."
Drogba was stretchered off midway through the second half of the Premier League game against Norwich at Stamford Bridge following a collision with City keeper John Ruddy.
The Ivory Coast forward has resumed light training sessions with the Chelsea physios but Villas-Boas confirmed: "He has to be authorised medically to make his full return to training.
"We just have to make sure that he's fully recovered before he comes back to training because that's the requirement you have to do neurologically."
Chelsea keeper Petr Cech will be available for the game at Sunderland after making a quicker than expected recovery from a knee injury, while defender David Luiz is also available after missing the start of the season with a thigh problem.
Villas-Boas added that he expected Frank Lampard and Fernando Torres to be on top form for Chelsea after they both experienced a difficult week away on international duty.
Lampard was dropped for a competitive England match for the first time in four years when he was left out of the starting line-up for Friday night's European Championship qualifier in Bulgaria. Torres did not make the bench for Spain's thrashing of Liechtenstein on Tuesday.
Villas-Boas said: "I don't phone the other managers [Fabio Capello and Vicente del Bosque] to tell them, 'What are you doing?'
"When they [Chelsea's players] go back to their national team, they push to be selected and they push to be the best.
They just have to compete with the best, end of story. The manager has to make choices on what he feels is best for the team.
"That's what I think Capello did, and that's what Del Bosque did, and that's what everybody does."