Paulo Sergio cancels Hearts players' days off
Last updated on .From the section Football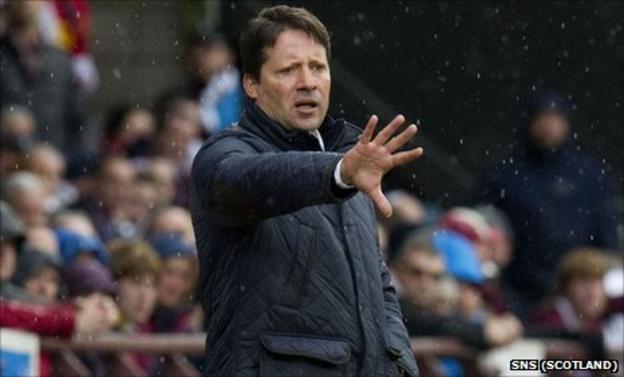 Hearts boss Paulo Sergio has cancelled the traditional midweek day off because he does not think Scottish clubs work hard enough.
With Hearts playing on Sundays, Sergio did not give his players any rest days in August and now wants to import a more continental model of training.
"Since we arrived, the first day off was last weekend," Sergio said.
"With all the SPL games and Europa League games, we didn't have a day off."
And while the international break did allow some respite, the former Sporting Lisbon coach is looking to instill a different work ethic in the Tynecastle side.
"I know in Scotland you are used to stopping on Wednesday but we stopped that. I believe Wednesday is maybe the best day of the week to work," Sergio added.
"If you play on Saturday and you have a day off on Sunday, Monday they arrive back at the club to recover.
"Tuesday, they are used to doing some hard work and they have a day off on Wednesday, they return on Thursday to do something and on Friday they are practising for the game on Saturday, working on free-kicks and corner-kicks.
"I find it a short week. How do you develop as a player if you don't work, if you don't sleep with the ball? It's hard to improve technically.
"We want to practise at high intensity because you don't play slowly during a game."
Sergio has already had a positive impact, leading Hearts to three consecutive clean sheets, and a comfortable Edinburgh derby win .
The news boss is therefore confident that his players embraced the changes.
"I think so, I don't have any problem with that," he said.
"I like to explain my ideas, I don't want to impose them without people understanding why I'm doing these things.
"I have changed too, I have to adapt to some things. It's reasonable for me to keep some things the same, they have been here for years before me."