Brendan Rodgers calm over lack of Swansea goals
Last updated on .From the section Football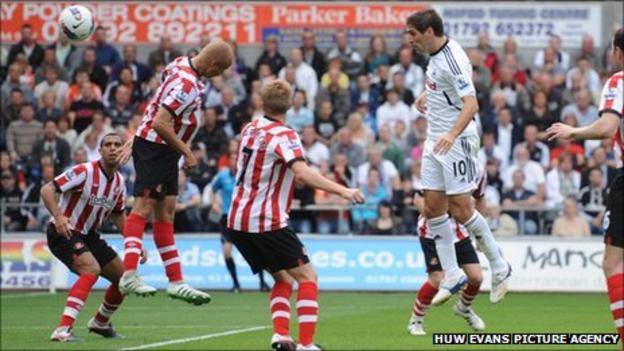 Swansea City manager Brendan Rodgers says he is not overly concerned by his side's failure to score in their opening three Premier League games.
"If after 10 games we haven't scored a goal and haven't got a result then there's certainly something to look at," said Rodgers.
"But the most important aspect for me is that we're creating chances.
"There would be a concern if we don't look like creating and we don't look like scoring."
Swansea's only goal so far this season came courtesy of a Shane Cansdell-Sherriff own goal in the second round Carling Cup defeat at Shrewsbury Town.
Lone-striker and record signing Danny Graham shoulders most of the responsibility to put the finishing touches to Swansea's slick passing game.
Wingers Scott Sinclair and Nathan Dyer are chief creators and Rodgers is confident the goals will come.
His saving grace so far, though, has been a obdurate defence that has secured two goalless draws following a 4-0 defeat at Manchester City.
"What's important also at the other end is that we're not conceding goals," he added.
"To have kept the two clean sheets is very important, especially at this level.
"I've every faith that the players that we've got here are natural goalscorers, and we have players who can create goals."
Scoring opportunities could be at a premium on Saturday, though, when Swansea face Arsenal at the Emirates Stadium.
The Gunners are still smarting after their 8-2 humiliation at Manchester United.
"I've worked with big players before and I know that when they lose they are very determined to come back and win the next game," said former Chelsea coach Rodgers.
"Arsenal is a magnificent club. They've obviously experienced a very disappointing result in their last game, but whatever their last result it was always going to be a tough game for us, like every single game.
"I'm sure Arsenal will be really motivated to do well having lost against Manchester United.
"They've obviously got new players as well who will want to make a good start."
Swansea will not be able to use new signings Rafik Halliche and Darnel Situ on Saturday as the club are still waiting to wait for Fifa to rubber-stamp the deadline day transfers.
Garry Monk's continued injury absence complicates Swansea's lack of defensive options, and a comeback date remains unclear for the club captain.
"He's looking better with every day but the timeline on it is difficult to actually say," said Rodgers of Monk's foot problem.
"It's something where it might not be back to completely how he wants it to be."