Fifa halt World Cup TV deal after Jack Warner link
Last updated on .From the section Football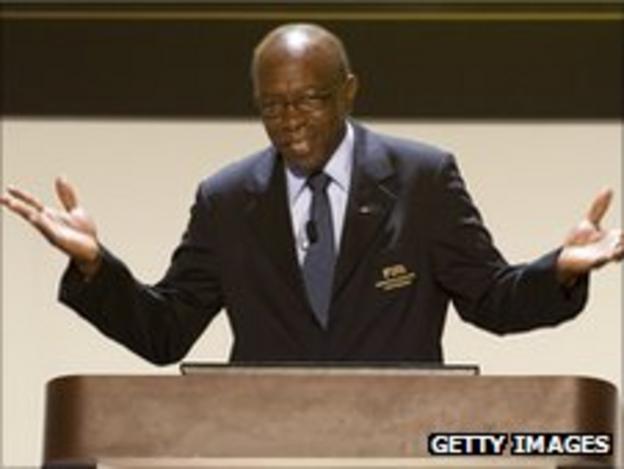 Fifa have terminated a 2014 World Cup TV deal after discovering rights had been sub-licensed to a company owned by former vice-president Jack Warner.
Warner's JDI had the rights after an agreement with the Caribbean Football Union.
At the time of the deal, Warner was also the CFU's president. He sold the rights to TV station SportsMax in 2007.
The fee was reported to be between $18million and $20m [around £12m] but that included the 2010 World Cup.
The initial contract with the CFU was agreed in 2005, giving the organisation the rights for the 2010 and 2014 World Cups for countries in the Caribbean.
Fifa are also owed several payments dating back to 2009 for the rights, which covered 29 Caribbean countries.
Warner resigned from all football activities in June, a month after being charged with bribery by Fifa, who then dropped their investigation saying they no longer had jurisdiction over the Trinidadian.
Fifa have sent a letter to the CFU saying they have "only recently become aware" of the sub-licensing agreement, as well as detailing the missed payments and terminating the contract.
SportsMax's own website said Warner "negotiated the deal on behalf of JDI" and "in his capacity as president of the CFU".
Warner said: "The matter is designed to go after me and is now with the CFU's Swiss lawyers."
Conservative MP Damian Collins, who is campaigning for Fifa reforms, said Warner's involvement pointed to a clear conflict of interest.
Collins, who sits on the culture, media and sport committee, said: "There should be a very strict code where members of Fifa's executive committee have to declare all their financial interests.
"If it looks like senior officials are making money on the side as a result of their role in football. That is plainly wrong."
Warner's close connections to the television rights in the Caribbean were also revealed by former FA chairman Lord Triesman in his claims about improper approaches during England's 2018 World Cup bid.
Triesman said Warner asked for $500,000 [£310,000] to be channelled through him to buy the television rights to show the 2010 World Cup on big screens in earthquake-hit Haiti.