Alex McLeish says Aston Villa struggle to compete with top clubs
Last updated on .From the section Football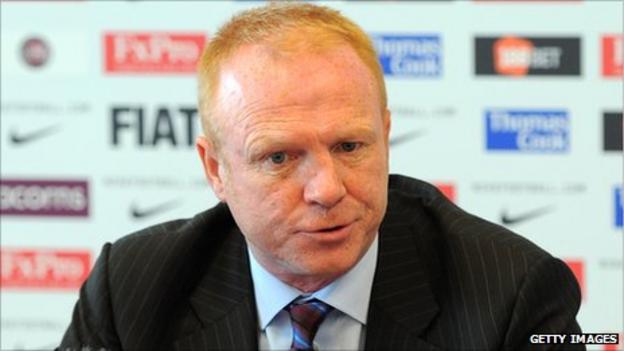 Aston Villa manager Alex McLeish admits the club and the majority of the Premier League cannot compete with the growing new breed of "super clubs".
Villa have sold Ashley Young, Stewart Downing, Gareth Barry, James Milner and Gary Cahill, who all appeared for England against Wales in midweek.
McLeish says he has tried to balance the books at the club since leaving Birmingham to take over in June.
He said: "We can't compete with the super clubs."
The Scot added: "They are on a different planet. There are a bunch of clubs that are very difficult for everyone else to compete with in the long run, no doubt about it."
McLeish, whose side visit Everton on Saturday, added: "Everybody in football, no matter who it is, has their price. But, in one-off games, there is always a possibility with the great competitiveness of the Premier League that you will get results.
"Time and time again we've said we are looking to get our finances on an even keel."
But the former Rangers manager is also content with his squad after acquiring from Tottenham before the transfer window closed.
He said: "We lost Luke Young and Jean Makoun, so it was two chunks of experience out of the squad that I felt was important to replace.
"Have I got enough now? I've never got enough. There is no doubt we are trying to keep things on an even keel while maintaining our competitive position. I think the two players we have brought in are two good acquisitions."
Striker Darren Bent is on course to return for action with Villa this weekend after missing England's Euro 2012 qualifiers against Bulgaria and Wales with a groin problem.