Alan Pardew irked at Newcastle's lack of new strikers
Last updated on .From the section Football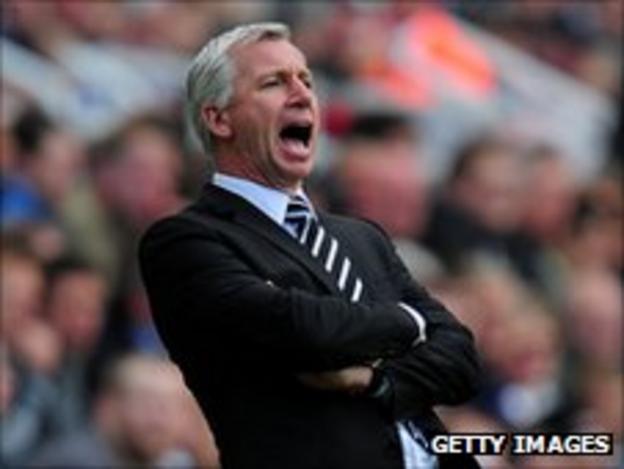 Newcastle manager Alan Pardew says he is frustrated the club's board did not allow him to buy a striker.
He spent much of the summer insisting they would end their seven-month search for a forward, but that did not happen before the transfer window shut.
Pardew said: "The criticism that's going to come from not getting a striker in has some validity to it because seven months is a long time.
"We bid for three or four players and none of them came to fruition."
The Newcastle manager's comments about the board are unlikely to appease owner Mike Ashley. Pardew said: "I can only say that, from my point of view, we put the targets in front of the board and then it comes down to financial decisions, and that financial decision didn't take place."
Over the summer, late interest in FC Twente's Bryan Ruiz and Sochaux's Modibo Maiga did not lead to deals being struck. The news was greeted angrily by fans who had spent much of the close-season speculating on just how much of the proceeds of former striker Andy Carroll's £35m sale to Liverpool in the January transfer window would be re-invested.
Asked if he would be back in the market for a striker again in January, Pardew said: "Absolutely. Yes, absolutely."
Pardew lost Joey Barton in the summer transfer window as the midfielder joined QPR. Barton could make his debut for his new club against the Magpies at Loftus Road on Monday night.
Barton departed when his stand-off with the board reached the point of no return. The Newcastle manager made no secret of his desire to keep the former Manchester City man at St James' Park, and he will bear no ill will as their paths cross once again.
Pardew said: "Joey is a controlled animal now on the football pitch. He's an aggressive player, but he has brought that under control.
"He's a very, very good player and somebody we need to make sure doesn't influence the game as much as he did for us.
"He hasn't got anything to prove to me or the staff here because the players all know how good he is. Obviously, there was a falling-out with the board that wasn't going to be rectified, so Joey has moved on.
"He's got himself a contract that he has earned through not just his ability, but the way he has conducted himself in the last couple of years especially, and we wish him well."