Administrators approach rival Plymouth Argyle bidders
Last updated on .From the section Football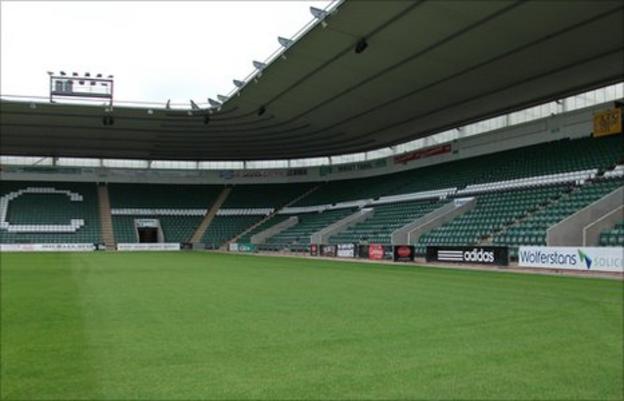 Plymouth Argyle's administrators have approached rival bidders James Brent and Paul Buttivant to submit bids to take over the League Two club.
On Thursday the Football League deferred a decision on whether to approve a bid backed by businessman Kevin Heaney.
Heaney said on Friday that he will not walk away from a deal just yet, despite threatening to 24 hours earlier.
"My consortium still want to do a deal," Heaney told BBC South West.
"They're (The Football League) asking for a few more bits to be done and we're hopeful that we'll get a completion date out of the Football League," Heaney, whose consortium Bishop International were preferred bidders for the club, added.
"It's more of a technical matter - how things are done in relation to funding for the club moving forward and there needs more understanding of that."
Meanwhile Brent told BBC Radio Devon on Friday that he was working on a rival bid.
"We've had an approach from Brendan Guilfoyle on behalf of the joint administrators asking us to submit a revised proposal, which we've done and we're now talking to interested parties to see if we can deliver that," Brent said.
Bishop International is offering £6m to buy Home Park and land around the ground, with acting chairman Peter Ridsdale then buying the club for a nominal fee.
Heaney, who is chairman of Blue Square Bet South side Truro City, insists he will have no part in the running of the football club.
League rules state no-one can be involved in the running of two separate teams.
And Heaney says the administrators should go ahead and approve his deal: "If ours is still the highest bid, why not push the deal through?
"It seems to me that the administrators are trying at the 11th hour to get a higher bid, which is a bit naughty really.
"The danger is my consortium walk away because they're tired of being messed around and they're left with James Brent in a far worse position," Heaney added.
Brent says that he could get a deal together relatively quickly, if the administrators wanted him to: "What should happen now, and what should have happened earlier in my view, is to get a sale and purchase agreement signed, and if people want to work with us on it that can be signed very quickly.
"Once that is signed we'll take full responsibility for funding the whole club and not keep people living from day to day," he added.