Steve Bruce hopes Sunderland can boost Nicklas Bendtner
Last updated on .From the section Football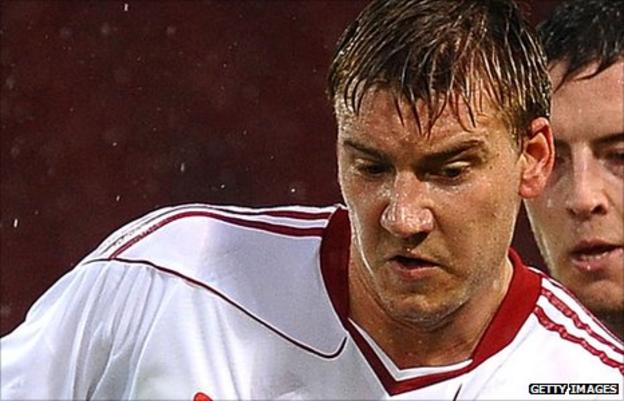 Sunderland boss Steve Bruce says Danny Welbeck's progress at Manchester United can be the benchmark for loanee Nicklas Bendtner during his time on Wearside.
Welbeck has become a regular fixture at United after a successful loan spell with Sunderland, and Bruce has urged the Arsenal striker to follow suit.
"Look what happened with Danny, he shot from on loan at Preston to playing for England," Bruce told BBC Newcastle.
"We hope that we can give Nicklas the platform, he's wonderfully gifted."
Bruce added: "He's a fantastic talent. He's hard work at times, will be hard work at times but he's a big, genuine honest boy who wants to come and play.
"I hope he can flourish in the surroundings he finds himself in."
The Denmark international signed a season-long loan deal on deadline day, to bolster an attack that has scored just once in the league and cup so far this season.
However despite an impressive international record of 16 goals in 41 games, Bendtner has been limited to just 98 appearances and 22 goals at club level.
"He had a real serious car crash 12 months ago, and he was lucky to walk away, it shook him up badly," Bruce continued.
"He then found a bit of a frustration, scores a hat-trick one week, and then he's out of the team the next.
"It's been stop-start for Nick the last 12 months, but I know for a fact people will take to him instantly because of his ability.
"He's played 150 times for Arsenal and he's only 23 years old, he's given this confidence that Nicklas only can, and that will bring something to the team."