Mbokani to rejoin DR Congo squad after coach lifts ban
By Patrice Citera
BBC Sport, Kinshasa
Last updated on .From the section Football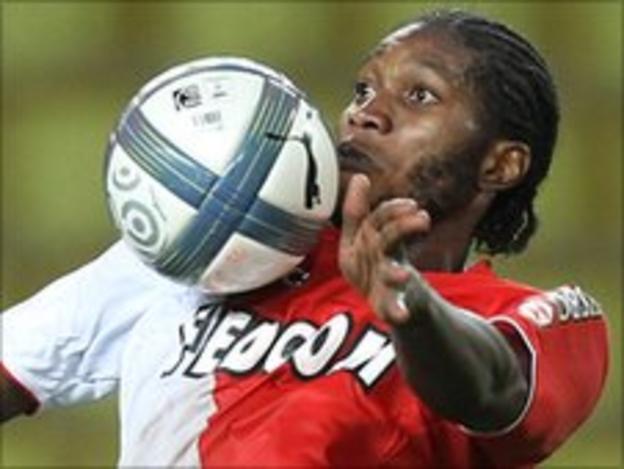 DR Congo coach Claude LeRoy has said that he will recall Anderlecht striker Dieumerci Mbokani to the national team.
LeRoy's predecessor Robert Nouzaret, who resigned last week, had vowed that Mbokani would never play for the national team as long as he was coach.
Mbokani and two others missed March's 2012 Africa Cup of Nations qualifying win over Mauritius after reacting badly to learning they would be substitutes.
Nouzaret then stated that he would never pick any of the players again.
But Frenchman LeRoy has told reporters in Kinshasa that he will call Mbokani into the DR Congo squad that will play Cameroon in their last Nations Cup qualifier next month.
"I give assurance that Mbokani's suspension is lifted and he will be part of the starting team against Cameroon," LeRoy said.
"I was the first to select Mbokani when he scored an extraordinary goal watched by 100,000 fans in Aztec Stadium during a friendly with Mexico," he added.
Nouzaret quit as coach last week after he fell out with DR Congo's football federation (Fecofa) over team selection.
He walked out just days before the Leopards were to play Senegal in a Group E Nations Cup qualifier in Dakar, where they lost 2-0.
Following the result, Senegal qualified from the group, leaving the Congolese with no chance of making the finals in Equatorial Guinea and Gabon.
Now, LeRoy has been revealing his plans to build a formidable side that can qualify for the 2014 World Cup.
He revealed that he will seek to convince Congolese players who hold dual citizenship, particularly those in France to join his squad rather than playing for the European nation.
"I will do my best to convince them of the extraordinary chance that they have to take part in World Cup qualifiers, and what it means to play in the World Cup - that is my philosophy," he said.
LeRoy also revealed that the political unrest in Syria contributed to his decision to take up his new post, since the crisis started just one week after he signed a contract to lead the Syrian national team.
"We agreed that it can be possible only when I am free, and just after signing my contract as Syrian coach, we heard that the army had started shooting at protesters," LeRoy said.
"I decided then to return home, and suddenly the DR Congo FA Chairman called me to tell me they were breaking up with my prodecessor."
Meanwhile, DR Congo FA's President Omari Selemani told reporters that former Coach Robert Nouzaret requested to resign early in July but the FA was not yet ready to accept it.