Harry Redknapp blames wantaway players for poor start
Last updated on .From the section Football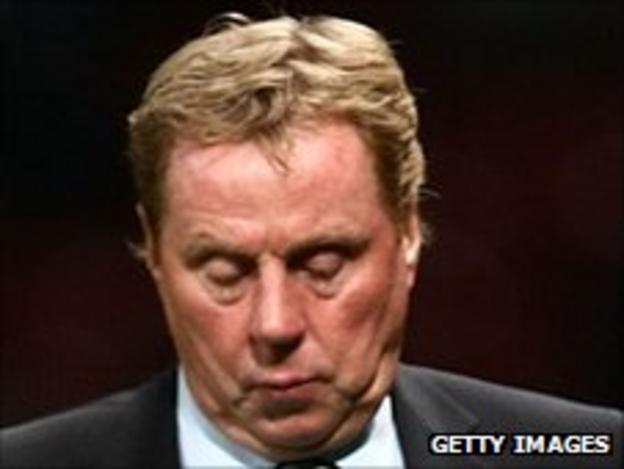 Tottenham Hotspur manager Harry Redknapp says their disappointing start to the season was not a surprise because of the bad atmosphere created by players who wanted to leave.
Spurs lost their first two Premier League games 3-0 and 5-1 and Redknapp said: "I did feel things weren't right here. I'd be lying if I said otherwise.
"I could tell there were too many players around that wanted to leave.
"It wasn't creating the right atmosphere going into the new season."
A 3-0 loss at champions Manchester United was followed by the 5-1 thrashing at home by Manchester City to leave Spurs bottom of the Premier League table.
"I was surprised by the result itself, 5-1. But I did feel at the time that things weren't right here. Most of those lads got their moves," added Redknapp.
He did not specify to whom he was referring but Peter Crouch, Alan Hutton, Jermaine Jenas and Wilson Palacios all left Tottenham before the end of the transfer window.
Luka Modric, who had been linked with Chelsea, was one who stayed and Redknapp admitted it had been a "difficult situation".
"I've always been brought up with the belief that, if people don't want to play for your club then you move them on, but I love Luka as a player," said Redknapp.
"I don't know how he feels, you have to ask him. The window has passed. He'll get on with his football."
Redknapp also confirmed he would love to have David Beckham at the club.
The former England captain trained with the Londoners last year, but Redknapp added that they had not made any move to try and sign the ex-Manchester United and Real Madrid midfielder.
"He was fantastic around the place, not only as a guy but also as a player. I found him to be an absolute top-class professional," said Redknapp.
"We haven't made any enquiries. I haven't spoken to the chairman about it. I was just asked if I would like him here and I don't think you'd ever say no to David Beckham.
"Would I enjoy having him here? Of course I would."
Redknapp added that midfielder Rafa van der Vaart could return from his hamstring injury sooner than expected after successful treatment in the Netherlands.