Mario Balotelli must grow up, says Man City boss Roberto Mancini
Last updated on .From the section Football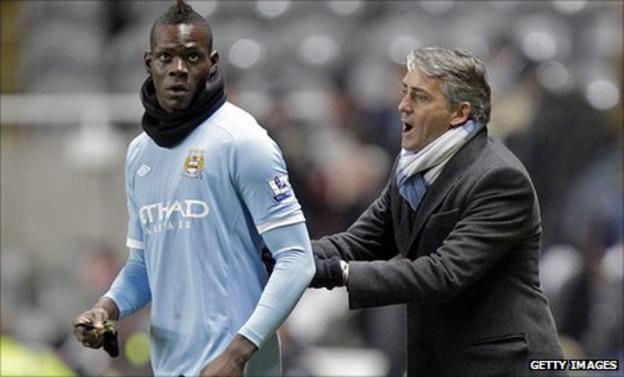 Roberto Mancini believes a more mature mindset will help Mario Balotelli stay out of the headlines.
The Manchester City striker has courted controversy for reportedly playing on his iPad from the Italian substitutes bench in the Faroe Islands.
He is also wanted for police questioning over alleged links to the mafia.
"I am disappointed because everything that Mario does is a big situation," said City boss Mancini.
"I think that Mario played well for Italy on Tuesday [against Slovenia], this is important, it is important that on Saturday he can play [against Wigan Athletic]. The other situation is not important."
Asked if Balotelli should moderate his behaviour, Mancini replied: "I hope. But Mario is 21 years old, he can change in two months, three months or six months.
"I think that you are right, the moment he changes his mind, he changes everything."
Ahead of the clash with Wigan at Eastlands, Mancini has revealed that new signing Owen Hargreaves will not feature in the first team for at least a fortnight.
The former Manchester United man is not match-fit after a torrid time with injuries, but Mancini believes he still has a lot to offer.
"He had a big problem in the last two years but he can recover very well and be a very important player for us," he said.
"I think he can play in maybe two or three weeks and he can always play.
"He is 30 years old, he is young and he was very unlucky.
"If he can recover very well it will not be a problem."
Defender Kolo Toure is also two weeks away from peak fitness after completing a six-month ban for failing a drugs test.