Paolo di Canio unaware of Crawley boss
Last updated on .From the section Football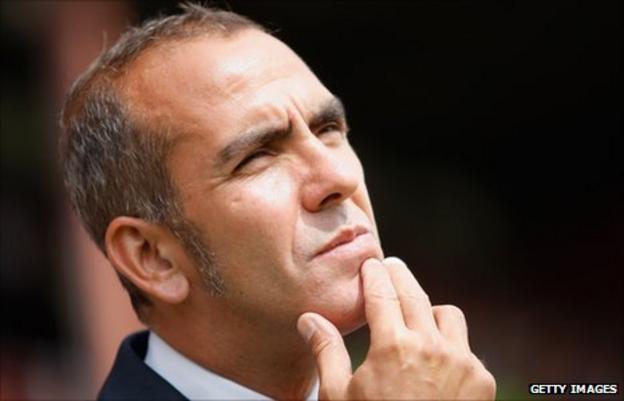 Swindon boss Paolo di Canio has shrugged off comments made about him by Crawley manager Steve Evans.
"I've never heard his name," Di Canio told BBC Wiltshire.
"I don't have anything to say to a person who is one of a million people talking about me in the world."
The former West Ham striker hit the headlines last month following his spat with Clarke, which resulted in the striker's exit from the club on loan.
And the following week a second scuffle broke out in his dug-out, involving Rotherham's Dale Tonge and a member of the Swindon coaching team.
Evans' Crawley, who are fourth in League Two, travel to 13th-placed Swindon on Tuesday off the back of a 6-0 defeat by Morecambe while Di Canio's side have won their last two home games.
Di Canio continued: "When they talk about me they can have more visibility - they can go in the national newspapers not only the local newspapers.
"So I'm happy for him if he has one line in the national newspaper.
"Obviously if they attack me as a man - they don't know me. If they say something as a manager then it's their opinion.
"But there are a million people in the world that don't like me - he's one of many.
"I don't speak about him because I don't know him, I've never heard his name. How can I speak about him?
"I will go there and do exactly the same job I do in the County Ground because I'm not worried about anybody.
"I've played in front of mafia people. People like him make me laugh - I laugh in the face of them. I laughed in the face of 70,000 Man Utd fans when I scored, you could imagine what it would be like if I was worried by the words of him who I've never heard of before.
"I only think about my team. I'm not worried about the touchline. They are fans if they are talking about me."