Ally McCoist admits concern over Rangers tax dispute
Last updated on .From the section Football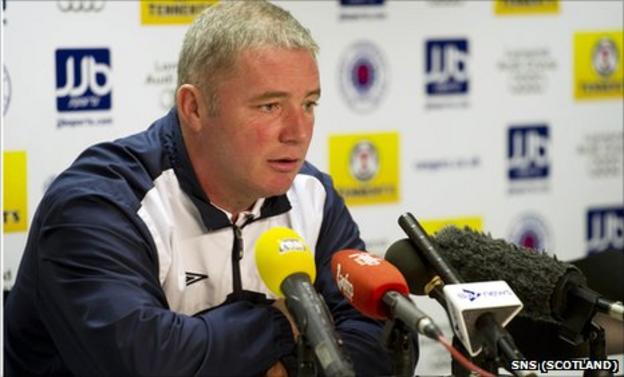 Rangers manager Ally McCoist has admitted concern over the club's ongoing dispute with Her Majesty's Revenue and Customs.
"There is obviously a concern," the Rangers manager said.
"I'm a Rangers fan and anybody involved with Rangers would be concerned."
Rangers are thought to be willing to pay the original tax bill, but are questioning a fine which is said to be about £1.4m.
The £2.8m bill relates to "player compensation schemes" between 1999 and 2003, and was first revealed when the club's interim accounts were published in April.
Rangers are also defending themselves against HMRC in another long-running historical dispute.
And in a separate case, the club agreed to settle an outstanding £35,000 legal bill with a Glasgow law firm on Friday following a hearing at the Court of Session in Edinburgh.
"If there was something I could do about it that would help the club, believe me, I would do it right now," McCoist added.
"But I can't. It's something that's totally outside my control so I can't worry about it and I won't worry about it.
"My main concern is that I've got a duty to the supporters and the players to turn out teams to win games of football."
McCoist, who took over at Ibrox when Walter Smith quit at the end of last season, says he sees the financial distractions at the club at part and parcel of being Rangers manager.
"It has been an interesting education in the first couple of months of management. But I won't let anything particularly annoy me.
"Everything that has been coming our way, we will handle. We won't shirk anything."
McCoist is also convinced that the club is in better shap as a result of new owner Craig Whyte's takeover in May.
"The one thing I can tell you is, in terms of the squad of players, I'm happy with it," he said.
"There is nobody now telling us that the playing staff are up for sale so it has to be in a better place."