Asamoah Gyan leaves Sunderland for UAE side Al-Ain
Last updated on .From the section Football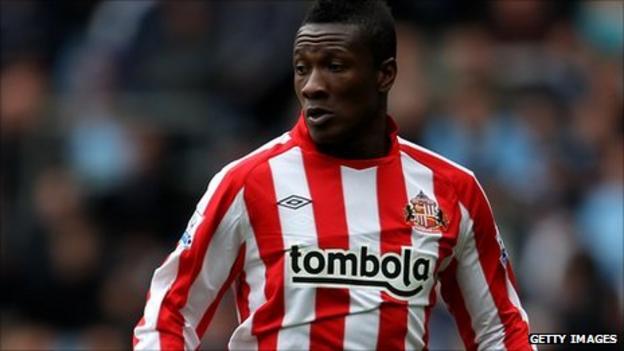 Sunderland striker Asamoah Gyan is set to sign for United Arab Emirates side Al-Ain on a season-long loan.
The Ghana forward, 25, joined the Black Cats from French club Rennes in August 2010 for £13m.
"I had a conversation with him 48 hours ago and he shook my hand and assured me he wanted to stay at Sunderland," said boss Steve Bruce.
"Within a few hours things changed. It's disappointing and the whole thing has left a bad taste in my mouth."
Bruce was speaking after his team's 2-1 home defeat against Chelsea.
And he added: "I don't really believe Gyan will have a future here.
"It baffles me how he can leave the best league in the world to play in the United Arab Emirates. I'll let people make their own conclusions why."
On Friday Bruce had claimed "parasites" turned Gyan's head after his goal in the 1-1 draw with England at Wembley in March.
And, in a statement released on Saturday morning Bruce said: "Anyone who has seen Asamoah play will know that he hasn't been himself in recent months. This option suits all parties at the present time and the club is well-protected in the deal."
Throughout the transfer window, Gyan was linked with a move to a big European club and Bruce blamed agents for turning Gyan's head.
"Since that game at Wembley, all the parasites, as I call them, hover around," said Bruce.
"People are in his ear constantly trying to engineer a deal for him. Certainly since the England game, when he played at Wembley so well on the night, something has been troubling him.
"It's very difficult, the constant speculation, no matter what you try to quash or quell, and the people around him, the people who want to make a fast buck, and it affects him in the end.
"He was going from Real Madrid to Bayern Munich to Valencia to Atletico Madrid."