Dundee Utd boss Peter Houston fizzes at penalty denial
Last updated on .From the section Football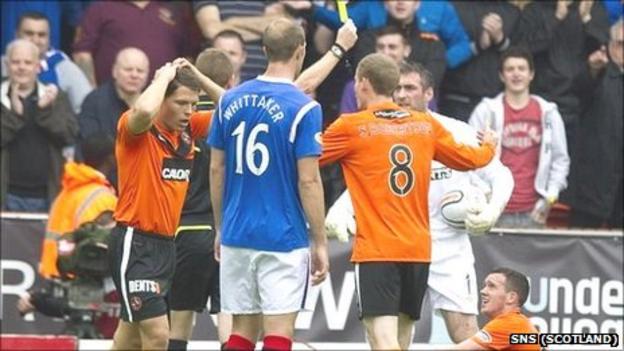 Peter Houston feels his Dundee United team were denied a "stonewall" penalty in the 1-0 defeat by Rangers.
Referee Calum Murray booked Danny Swanson for a 20th-minute dive when he went down in the box after colliding with Rangers centre-half Dorin Goian.
"I have seen it a number of times on television and it was a stonewall penalty kick, no doubts about it," an aggrieved Houston told BBC Scotland.
"Danny got a yellow card for diving. It was never a dive in a million years."
Midfielder Swanson burst into the visitors' box and knocked the ball beyond Rangers' Romanian defender but as he moved forward he clashed with Goian and fell to the ground, and was immediately penalised for diving.
"Danny has an area to run into and the guy's leg prevents him from running into it," added Houston.
"He is 10 yards from goal - why would he go down there? He has the skill to score goals from there.
"The players feel hard done by. Decisions like that sometimes go against us.
"In my opinion, Calum, who is a decent referee, got it wrong. No doubt he will see it as a dive and that is why he gave him a yellow card."
While the Tannadice manager was angered by that decision, he had no complaint with the official when he flashed a red card at Johnny Russell for aiming a headbutt at Rangers defender Kirk Broadfoot.
Houston said of the striker's antics: "It was sheer stupidity from a young lad.
"Hopefully he learns from it because football has no place for anybody who wants to stick the head in another person's face.
"He has cost the team today and Johnny will pay for that. However, I will look for him to kick on and realise that you can't go into situations like that."