Kenny Shiels hungry for more from Kilmarnock
Last updated on .From the section Football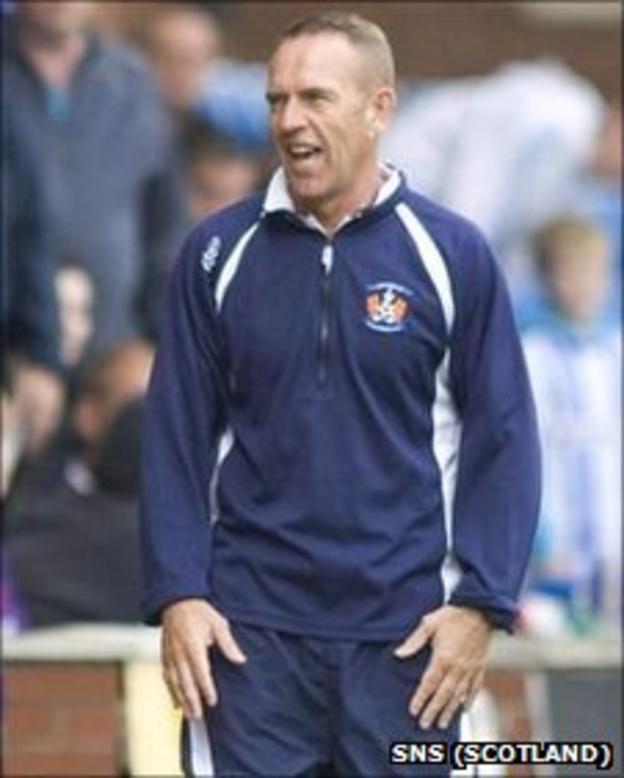 Kilmarnock's ascent to fourth in the Scottish Premier League pleased their manager Kenny Shiels but he feels there is room for improvement.
Zdenek Kroca scored the fifth goal of the game in .
"The entertainment value was good but we still think we can do more. We could have gone on," said Shiels.
"We tried to close the game out too early. In the last 10 minutes there was no penetration."
The win over Jim McInytre's Pars means Kilmarnock are unbeaten in four home league games this season and, with a game in hand, places them above Hearts and St Mirren on goal difference.
But the Ayrshire side had to fight for the three points.
Jason Thomson put the visitors ahead before Irish striker Paul Heffernan scored from the spot after 32 minutes and he doubled his haul on the stroke of half-time.
But Dunfermline's Ryan Thomson levelled the score after the break before Kroca sealed the win.
"I was surprised by Dunfermline. They played much better than I had seen. They passed the ball well and they deserve credit for that," said Shiels, who also stated that he wants to see his team's away record improve.
"Kroca said he'd score every six games. We have played six games now and he has scored so he has been true to his word."
Despite the win, Shiels was critical of referee Brian Winter.
"I am disappointed that there were a lot of decisions that went against us," he said.
"Early in the game, Paul Heffernan was running towards goal and the player pulled his shirt.
"The referee played the advantage, which was good, but we didn't score and there was no caution for the player. I found that bizarre.
"We had two really blatant penalties before the third one [that was awarded].
"There were a lot of strange decisions out there today. I think that restricted us quite a bit."