Man Utd's Tom Cleverley faces month out with ligament damage
Last updated on .From the section Football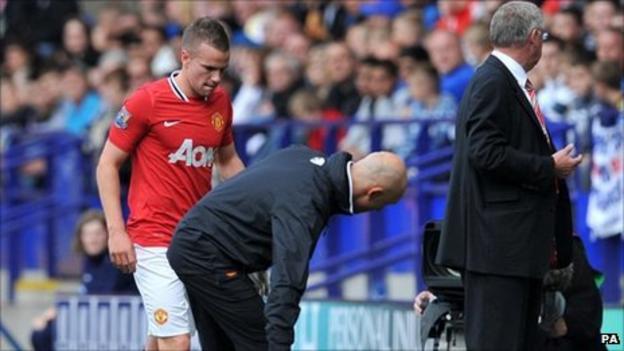 Manchester United midfielder Tom Cleverley will be out for a month after suffering ligament damage in his foot during Saturday's 5-0 win at Bolton.
United feared the 22-year-old had sustained a fracture in a tackle by Bolton captain Kevin Davies.
That could have left Cleverley facing several months out, but a scan on Sunday revealed only ligament damage.
"It was unfortunate," Ferguson told BBC Sport of the injury. "We expected it, it was a bad tackle."
Cleverley was replaced in the first half of the victory and left the ground in a protective boot.
Davies was not cautioned for the incident but shortly afterwards picked up his 100th Premier League booking after a challenge on Patrice Evra.
The injury means Cleverley will miss England's Euro 2012 qualifier against Montenegro in October in addition to club matches.
He was not the only United player to sustain an injury at the Reebok Stadium and Ferguson said he would assess his squad before they travel to Portugal for their Champions League tie against Benfica on Wednesday.
"Jonny Evans got a knee in the hip and it's a bit tender, Patrice Evra got a knock on the knee," added the Scot.
Despite the injuries, Ferguson's side went on to demolish Bolton to maintain their early-season form - they have scored 18 goals in four games and top the Premier League table ahead of rivals Manchester City.
Wayne Rooney notched his second hat-trick in succession, while Javier Hernandez scored twice on his first start this term, as United went 3-0 up in 25 minutes to put the game out of the hosts' reach.
Ferguson was pleased to see the pair renew their strike partnership.
"Our counter-attack with pace up front caused them a lot of bother and it was a good start, a great start in any game," Ferguson added.
"Wayne is in great form at the moment, he is absolutely 100% fit and looking very sharp. Him and Chicharito [Hernandez] were just a handful for the opponents today.
"Hernandez's first goal was absolutely fantastic, his movement and speed to get to the cross was absolutely brilliant, the kind of run that we know he's so good at and he's a real menace to defenders."
Rooney's form - he has scored 10 goals this season, including two strikes for England - has been put down to a rest over the summer.
But Ferguson dismissed that notion, saying his performances were because of a new maturity.
"He's a fit lad, he's a strong lad and he could play a game every day," Ferguson explained.
"I think he's starting to mature now. He's 25 years of age and he's in the years I always feel where a player gets better timing, better authority and he's in better control of situations now."