Tim Cahill backs Everton sale of Mikel Arteta to Arsenal
Last updated on .From the section Football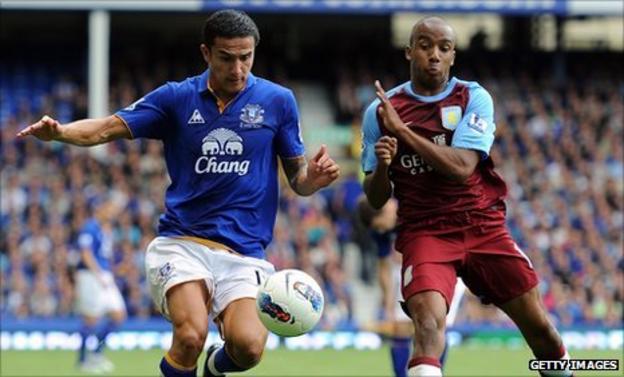 Everton midfielder Tim Cahill says selling Mikel Arteta to Arsenal was a good move for the club.
The Australia international told BBC Radio Merseyside: "The whole scenario was right for everyone.
"Mikel might go on to play for his national team, he'll play in the Champions League and he raised a hell of a lot of money for Everton.
"He cared about this club a lot, but we have to understand we are a business and a football club."
Arteta signed for Arsenal on transfer deadline day for £10m after asking Everton manager David Moyes for the chance to leave.
Cahill added: "We want to make sure that this club is alive for many years to come, it's difficult for everyone to understand, but this is football and these are the times we live in."
More than 1,000 fans held a march outside of Goodison Park prior to Saturday's 2-2 draw with Aston Villa.
The demonstration against chairman Bill Kenwright and the current board was organised by fans umbrella group The Blue Union.
But Cahill backs the current administration and also his chairman: "All we can do is fight for him and fight for the cause because the situation is what it is."