Sunderland chairman Quinn says Asamoah Gyan could rejoin club
Last updated on .From the section Football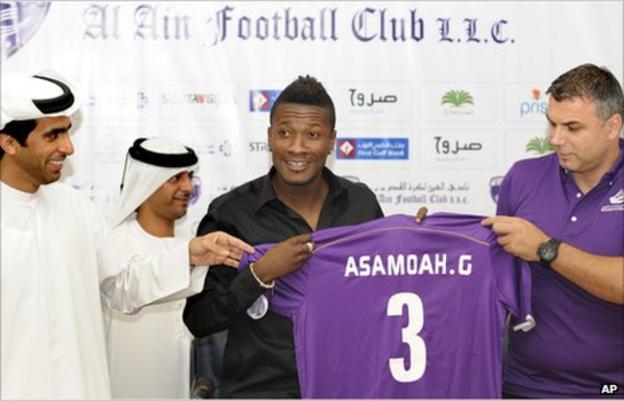 Sunderland chairman Niall Quinn has left the the door open for Asamoah Gyan to return to the club after his loan to United Arab Emirates side Al-Ain.
Quinn said manager Steve Bruce and Gyan, 25, had settled their differences over the controversial deal.
"The olive branch is there, but Asamoah has to convince Steve, and every Sunderland fan, of his commitment to this club if he is to return," he said.
The forward joined Sunderland from French side Rennes in 2010 for £13m.
Quinn told Sunderland's website he found Gyan's decision to quit the Premier League for Al-Ain "baffling".
The former Sunderland striker said: "Steve Bruce, our owner and the board all found the football decision baffling, but I as chairman, with everyone's full support, decided that this deal was in the best interests of our club."
Ghana international Gyan was unveiled by his new club on Monday and said he joined because it was a "big challenge".
He said: "I'm really happy to be here. Al-Ain is an important club and this is a big challenge for me."
But the striker refused to be drawn on his long-term future.
When asked whether he intended to remain with Al-Ain after his season-long loan deal expires, he said: "I don't promise. I'm somebody who doesn't promise."
Gyan is thought to have been unsettled at the Stadium of Light for several months.
He added: "Everybody who has seen me in the World Cup and at Sunderland knows what I am capable of. We have quality players in the club [Al-Ain] to win games and do well in the championships."
After the deal was agreed, Bruce had expressed his frustration, claiming "parasites" had turned Gyan's head after his goal in the 1-1 draw with England at Wembley in March.
It has been reported that Gyan will quadruple his wages at his new club, but the striker maintained this was an opportunity to taste football culture in the Middle East.
He said: "I need to change environment and see how it is. I've played in Europe for a while and now I am in Asia, so I have to see how the Asian league is. I will try my best and then see how my future lies."