Scott Brown says Celtic won't squander Euro reprieve
Last updated on .From the section Football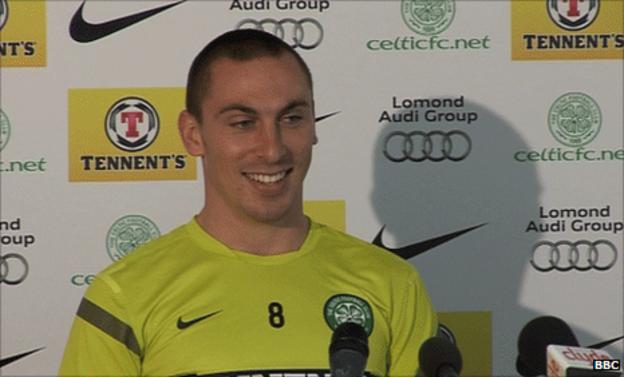 Celtic captain Scott Brown believes their Europa League tie against Atletico Madrid offers a chance to improve their European reputation.
Brown, who is doubtful for Thursday's game with an ankle injury, said Celtic's European displays in recent seasons have not been good enough.
"We can show what we've lacked in the last couple of years," Brown said.
"We've not been in Europe, so it has been disappointing for the club and especially for the players."
Celtic lost 3-1 on aggregate to Sion in the play-offs but were reinstated by Uefa, which ruled the Swiss club were guilty of fielding five ineligible players over the two legs, following a signing ban imposed by Fifa.
The Glasgow side took their place in a group that also includes Udinese and Rennes and, although the Swiss club's appeal will be heard by Uefa on Tuesday, Brown and the rest of Neil Lennon's squad are preparing for the trip to Spain.
"It's going to be a big game for us, especially going over there for the first game, but we will take it as it comes," said Brown.
"We are going to take it as one of the biggest games of our season so far.
"We want to be in Europe and play in big in big matches - that's why we signed for a club like Celtic. It's a major occasion."
Sion will discover on Tuesday the outcome of their appeal against their expulsion from the Europa League.
The Swiss club's president, Christian Constantin, told the Swiss media on Monday that the club were planning to fly to Madrid on Wednesday whatever the outcome of the hearing, which will be heard by Uefa's appeals body at 0900 BST.
Sion are also pursuing the case in several civil courts and will not give up their pursuit if they lose Tuesday's case, with the Court of Arbitration for Sport being another possible avenue to challenge the verdict.
However, Brown insists that the continuing uncertainty over whether the game will go ahead has not hampered his side's preparations.
"Once we figure out if we're in or not, we'll take it from there," he said.
Brown dismissed suggestions the Celtic players could feel they do not deserve to be in the competition.
"That's not going to come in the players' minds whatsoever," he said. "We are going to give it everything we have.
"They have signed some quality players, but we are a quality team as well.
"We will have to defend strongly from the first minute and see where we go from there."