Craig Whyte sees hard times ahead for Rangers
By Alasdair Lamont
BBC Scotland
Last updated on .From the section Football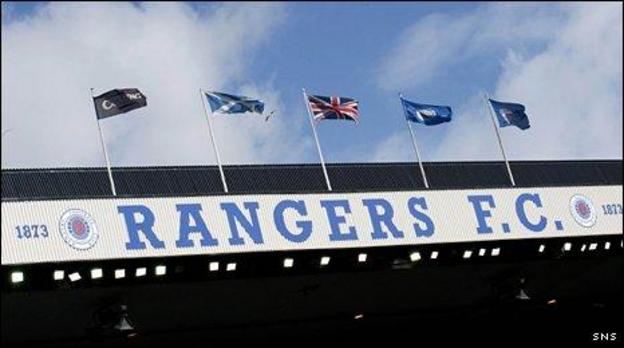 Rangers owner Craig Whyte has acknowledged there are challenging times ahead for the club.
But speaking after reports of concerns over the club's solvency he says there will always be a Rangers Football Club, and that they will stay at Ibrox.
"Rangers will be there long after I'm dead and buried," Whyte said.
"The press we have received over the last week has been horrendous but we are in a better position than we were a year ago."
Whyte also says Rangers' ongoing tax dispute could have serious repercussions, but is confident of winning their case.
His comments come after leaked documents claimed Rangers could owe Her Majesty's Revenue and Customs up to £49m.
But Whyte maintains the club's financial situation has improved in the last 12 months.
"Lloyds debt has been paid off and we are in control of our own destiny," he added.
"We accept that there are challenges ahead.
"There are other issues but everyone is aware of them and we are working our way through them but as I say, the club is in a better position than we were a year ago."
Referring to the court papers which relate to Martin Bain's unfair dismissal case against the club, Whyte said the former chief executive of the club had a "cheek".
"There was a lot of stuff in the document which was opinion and which we don't agree with," Whyte said.
"Every Rangers fan will see it for what it is.
"It could not be taken as partial and some of it is absolute drivel and ludicrous.
"The most ludicrous thing of all is that Martin Bain is looking for £1.3m from the club. He has a cheek."
The club confirmed in April 2010 that they were the subject of a tax investigation, before Whyte bought the club in May 2011.
Last week manager Ally McCoist admitted he was concerned by the dispute after sheriff officers visited the club.
The club's tax tribunal will resume in November.
"We are told by our counsel that he is confident we can win the case," Whyte told the club's website.
"Clearly it's huge issue for Rangers. It is a major negative but we hope to get it resolved and whatever happens we will find a way through it.
"There was not a queue of people waiting to buy Rangers. The club was for sale for three years before I bought it.
"There were many times when I could have walked away from this, the tax bill being one of the reasons, but there were other reasons too during the negotiations that could have led me to walk away.
"But because I'm a fan I thought someone has to step up and sort this out - and there is a lot of sorting out to be done. There is a mess to clear up and my team are doing that now.
"We have to live within our means. At the moment we are not living within our means. Our costs are too high for Scottish football and we are going to have to take action to remedy that."