Off The Bawl - 12 September 2011
Last updated on .From the section Football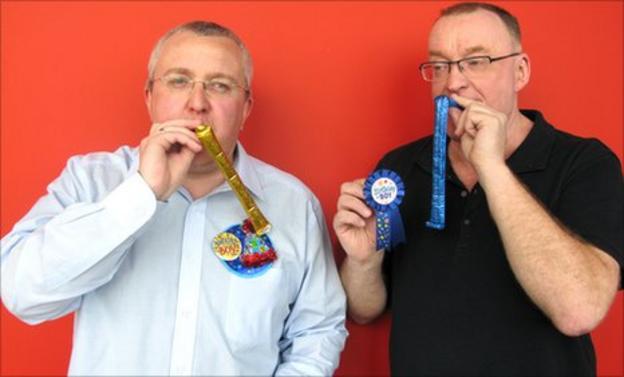 Greeeeeetings!!! Our star guest on Saturday was former Celtic winger Bobby Petta who sat rather uncomfortably in the studio after claiming he still had Fernando Ricksen in his back pocket.
A real Bobby dazzler when Celtic famously beat Rangers 6-2, Petta is something of a cult figure with the Parkhead punters, so we kept that topic going from the previous week.
Also, with Scots writing H.O.L.L.A.N.D on their Valentine Cards (Hope Our Love Lasts And Never Dies) we wondered what S.C.O.T.L.A.N.D would mean to a Dutchman like Bobby.
Our Team of the Week was very dear to Stuart Cosgrove's heart - The Farmers XI - and, with the Sunday Supplement being broadcast on the 10th anniversary of 9/11, we looked at the links between New York and Scotland.
Here's a selection of the most petty and ill-informed texts and emails on radio...
CULT PLAYERS
Paul in Newarthill said: "Bobby Petta's a genuine cult hero because he even had his own song: There's only one Bobby Petta, he was sh--e then he got better, we took him to mass, now he's world class, walking in a Petta wonderland!"
Mark in Glasgow said: "When I bought a motorbike recently, I asked my five-year-old son what I should call it and I fully expected him to say Night Rider or Speed Racer or something like that. However, he immediately thought I should call it Chic Charnley! Cult character or what?"
Jim in Netherlee said: "John Workman of Thistle achieved cult status at a throw-in. After running back to the wall to take a long shy, he spotted a fan with a cigarette and took a quick drag before launching the ball. Nowadays he'd probably be red-carded."
Rab fae Dalmellington said: "Back in the late 70s the mighty Craigmark Burntonians Junior Football Club from sunny Dalmellington had a lad called Alec Muggins (how appropriate). He basically kicked anything above grass level. In fact, if he ever (by accident) kicked the ball, everybody used to roar: "Never mind the baw, Muggins, get oan wi' the gemme!" A definite cult character and still a big hero down Dalmellington way."
Jim from Ellon said: I'm a Motherwell fan and our ultimate cult character is Big Sieb Dykstra. He was totally erratic, quite unpredictable and I remember a story about him getting lifted for smuggling his pet cats into Scotland."
Colin from Bruntsfield said: Cult hero? Mark Walters. Simply for being the most prominent black player in Scotland - a great role model for young, dark-skinned Scottish football fans like myself."
Al in Kilmarnock said: "I'd nominate Ian Durrant as Killie's cult hero. He also had his very own chant - He's blue, he's white, he used to play with sh--e, Ian Durrant, Ian Durrant!"
Easton Thain said: "Buckie Thistle's cult hero is Stephen 'Marra' Bruce who made his debut for the club in 1995 when he was just 15. He's also known as The Horse as he likes to celebrate his goals in a certain way..."
(Answers on a postacard, please, folks!)
Bryan Copland said: "Never mind a chant, one of St.Mirren's BIGGEST legends has a breakfast named after him! It's sold outside the ground from a fast food van alongside a big photo of the player holding a knife and fork. And yes, no prizes for guessing it's Mark Yardley."
S.C.O.T.L.A.N.D (Bobby Petta's Valentine Card)
Sometimes Cold, Often Teeming And Normally Dreich (Franz Grimley, Falkirk)
Spending Cash On Talent Lately As Recently Divorced (John)
Stuart Cosgrove's Overtures Towards Lassies? Aye, Nae Danger! (Anon)
So Come On Then, Let's 'Ave Nookie, Doll (Andy fae Killie)
TEAM OF THE WEEK
The Farmers XI
(aka Eintractor Frankfurt)
Stadium: Plough Lane
Deadly Opponents: Wolves
Manager: Davie Hay Loft
Coach: John Barnes
1/ Cow Pat Bonner
2/ Kirk Broadfoot and mouth disease
3/ Frank and Eddie (The Graze...)
4/ Tommy Ringworm (c)
5/ Dunga
6/ Moo-moo Sylla
7/ Oooh-Aaarchie Gemmill
8/ Maurcie Cock-a-Doodle-Edu!
9/ David Goodwellies
10/ Lionel Messi Ferguson
11/ Kris Commons Agricultural Policy
Subs: John Old McDonald, Bobby Shearer, Morten Weighorse.
THE OTB MYSTERY
If £9m was the answer (the bid Rangers allegedly received for Jelavic) what could have been the question?
Donnie Cameron said: "If you put £1 on Celtic to qualify from their Europa League group - and they did - how much would you get back?" (£9m)
Brian from Kilbarchan said: "How much dosh would the average man be willing to pay Miranda Hart to stop making her sitcom?" (£9m)
Jonathan Smith said: "What did Madjid Bougherra weigh when he left Rangers?" (Nine million pounds)
Scott Riach from Inverness said: "How much did Wayne Rooney pay for the site grannydating.com?" (£9m)
This week? The painting job on the Forth Bridge has finally finished. So what about a replacement phrase for "It's like painting the Forth Bridge..."?
Text your entries to 80295 or email offtheball@bbc.co.uk. A few examples...?
It's like trimming the hedge at Glebe Park (Anon)
It's like waiting for an Edinburgh tram (David Logue in Clydebank)
It's like waiting for Craig Whyte's "warchest" to creak open (Ryan from Edinburgh)
NEW YORK & SCOTLAND
Jamie in Milngavie said: "Peter Canero, the former Killie and Scotland player (cheers, Berti), played for the New York Red Bulls."
Rab from Kilmarnock said: "In 1961, Killie played in something called the New York Tournament and, en route to the final, we beat the then English champions Burnley and the mighty Bayern Munich."
Aka in Neilston said: "Did you know there's a miniature version of the Statue of Liberty on top of the Glasgow City Chambers?"
Gordon in Alloa said: "What about Andrew Carnegie? Both New York and Dunfermline have a Carnegie Hall."
Colin from Stepps said: "Connection between New York and Scotland? New York is known as The Big Apple and rumour has it that someone in Glasgow once ate a piece of fruit."
Malky Campbell in Kilbarchan said: "Sesame Street and Victoria's nightclub in Glasgow both have scary Big Birds."
AND FINALLY...
After mentioning on the Off The Ball Sunday Supplement that Franz Beckenbauer once famously had his arm in a sling while playing a World Cup semi-final, Gary in Clarkston said: "The last time he played against Scotland, I think the German goalie could have played with his arm in a sling..."
PS. The song that played us out? Well, we received this little ditty from an Only Fools And Horses fan...
No income tax, no VAT,
No money back, no guarantee.
Murray or Whyte, it's all the same,
The Gers are going down the drain.
God bless HMRC.
Viva HMRC.
Long live HMRC.
C'est magnifique HMRC!
Magnifique HMRC!
We think he might also have been a Celtic fan...
To join in the fun on this Saturday's show, call 0500 929500, text 80295 or email offtheball@bbc.co.uk