Cambridge United closer to stadium switch
Last updated on .From the section Football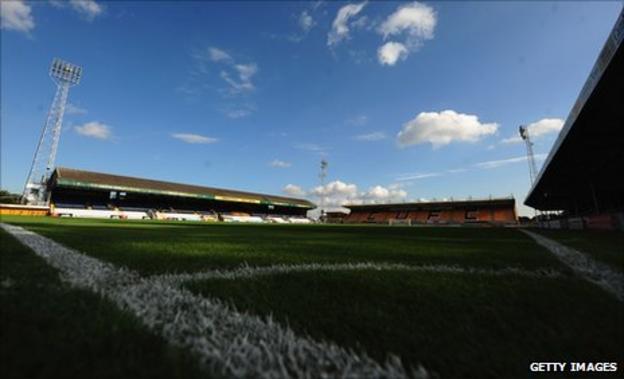 Cambridge United's landlords, Grosvenor Estates, have identified two preferred locations for a new community stadium.
Grosvenor are keen to build a new stadium for the U's so they can redevelop their current Abbey home.
One option is Trumpington Meadows close to the M11, while the second is phase two of a development on the former NIAB site in the north-west of the city.
Projects director Ed Skeates told BBC Radio Cambridgeshire: "We're pleased with the progress that's being made."
Grosvenor have narrowed down their options from a 10-site shortlist following a period of consultation.
"We've been speaking to landowners, assessing who would like to be involved, and now we've got to the stage where we've got two realistic options," Skeates said.
Land at Trumpington Meadows is already part-owned by Grosvenor, and offers strong transport options with the M11 and Cambridgeshire Guided Busway located nearby.
Barratt Homes control the NIAB site, but they have expressed an interest in working alongside Grosvenor on the project.
Both potential sites currently sit within the greenbelt so reclassification of the land will be needed ahead of any development.
Work will now begin on a design concept, with a maintainence and governance plan set to be put in place.
It is anticipated that the stadium will cost between £8m and £12m to construct and will have a capacity of around 8,000.
Skeates believes they remain on target to complete the stadium development within the next five to seven years.
"In terms of the surveys we've done, the fans' number one request is that the club is placed on a solid financial footing with the new stadium," he said
"This project is more than just a football stadium. It's a community stadium which will provide for related educational, health and housing needs."