Burnley manager Eddie Howe targets new loan signing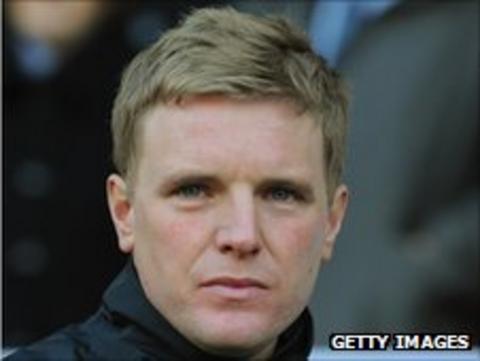 Burnley manager Eddie Howe believes he still needs to strengthen his squad after missing out on new signings in the last transfer window.
"We were chasing a couple of other players but it didn't happen," he told BBC Radio Lancashire.
Burnley signed seven players in the summer and Howe publicly acknowledged he needs more after Saturday's 2-0 defeat at home to Middlesbrough.
"When you look at the squad we have, we are thin on the ground."
He added: "We desperately can't pick up anymore injuries and I'm still looking to add to the squad."
Burnley have won only once in the Championship this season and are without injured trio, Danny Ings, Martin Paterson and Michael Duff.
"I've said before that I want to bring the right players in but we do have a very small squad we are aware of that.
"I think the loan window is the least preferred option because you want to build a nucleus of players that are going to be together for a period of time so you can really build them into the club.
"But with loans its slightly more difficult.
"However with the likes of Kieran Trippier and Ben Mee if it is a season-long loan then I don't see it being to much of a problem," said Howe.