Matt Bloomfield column: Dreading being dropped

By Matt Bloomfield
Wycombe Wanderers midfielder
Last updated on .From the section Football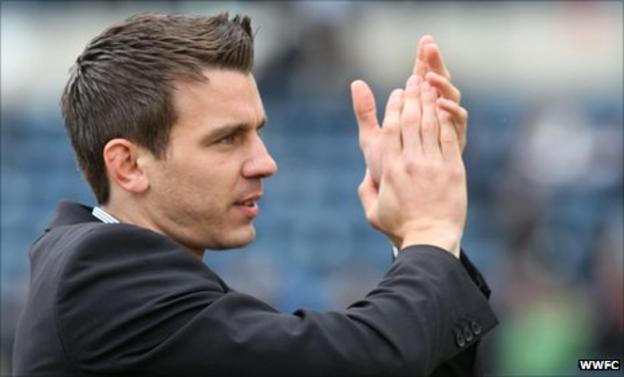 Getting dropped is part of life as a footballer. Being left out of the starting 11 or out of the squad completely is also par for the course and something that you have to accept from time to time.
There isn't a player alive who hasn't suffered that dreaded feeling when the team goes up on the board and they aren't in it.
Being left out can be for a variety of reasons, ranging from bad form to tactical decisions, or just being rested.
Everyone accepts that when they are playing poorly, they run the risk of losing their place in the team. No-one performs badly on purpose but, deep down, you know when you have been below par and you also know the next game the axe could swing in your direction.
If you are suffering a dip in form, or your confidence is running low, the best thing that can sometimes happen is to be taken out of the firing line for a game or two to recharge the batteries ready to go again. However, it doesn't seem like that at the time.
It's a horrible feeling when the gaffer either speaks to you on a Friday to explain his decision or if the team is pinned up and you aren't in it.
The bottom line is we are all footballers for one reason, and that reason is to play football. We train all week to prepare for three o'clock on a Saturday afternoon and if you are sat in the stand watching your team-mates you have an empty feeling all weekend.
It's part and parcel of the game and only 11 players can play at one time, but that doesn't make it any easier.
We all have a burning desire inside us to play football and to win, and if either of those isn't happening then it can affect your home life.
It would be nice to think that you can leave your work at the door when you get home, but I'm afraid that isn't so easy and players are just like fans when they suffer all weekend after a defeat.
There is only one way to respond and that is to get your head down and work even harder than before to make sure that it doesn't happen again.
That is the only way forward in my opinion. I have seen players over the years who have taken being dropped very differently and maybe thrown their toys out of the pram.
Some managers prefer to speak to their players face-to-face and explain their decision and I think that this is the best way to deal with these situations.
This way the player and the manager can both explain what they are thinking and you can move on.
Other managers prefer to announce the team without the need to explain their decisions. After all they are the only ones whose opinion matters. This is the route we saw Andre Villas Boas take with Fernando Torres at the weekend.
I was left out of the squad on Saturday in our game against Brentford. My answer? Head down, work harder.