Celtic still in Europa League as Sion lose Uefa appeal
By Chris McLaughlin and David Currie
BBC Scotland
Last updated on .From the section Football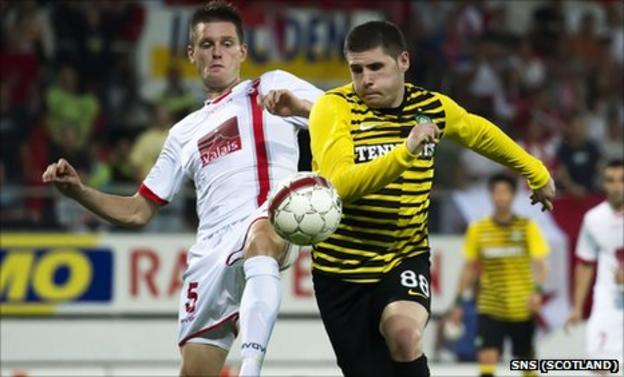 Sion have lost their appeal to Uefa against Celtic's reinstatement to the Europa League after a hearing in Nyon.
Neil Lennon's side will now expect to play Atletico Madrid in the opening game of the group stage on Thursday.
But BBC Scotland has learned that the match might yet not go ahead because of a further appeal to the Court of Arbitration for Sport.
Sion could ask CAS to make an interim ruling on the case as soon as possible before full evidence is presented.
The Swiss club had qualified from the play-off stages after defeating Celtic 3-1 on aggregate but earlier this month were ruled to have used ineligible players.
And, as Uefa was considering Sion's appeal, a civil court in Switzerland ruled that they should be allowed back into the competition.
Uefa pressed on with its rejection of Sion's appeal and the club and their president, Christian Constantin, have 10 days from the receipt of the judgement to challenge that through the CAS.
A second Uefa hearing - by the governing body's emergency panel - then dismissed the club's civil court ruling, but acknowledged their further right of appeal.
"Like every other club in Europe, FC Sion had and still has every opportunity to use all possible sports arbitration mechanisms to challenge UEFA's disciplinary bodies' decisions," the governing body said in a statement.
But Uefa President Michel Platini is adamant that the Swiss Cup champions must adhere to the same rules as everyone else.
"I am a strong believer and deeply attached to the protection of football and fairness of the game," he said.
"I am happy that football disciplinary bodies are sanctioning clubs who are using their influence and wealth to induce players to breach their contracts.
"This is against all rules of sporting fairness.
"This is ultimately about protecting clubs, the players, and football itself.
"We have clear rules and regulations that all clubs know before they enter our competitions.
"We cannot accept that if one individual club does not get its own way then it goes through any possible system to force its will on the others.
"Two independent disciplinary bodies have ruled on this issue and we must abide by their decisions."
Meanwhile to Spain for Thursday's match despite Uefa's verdict.
Celtic confirmed the news of Uefa's latest decision on their website and said they were "pleased" with the ruling.