Paul Lambert urges Norwich City to learn from mistakes
Last updated on .From the section Football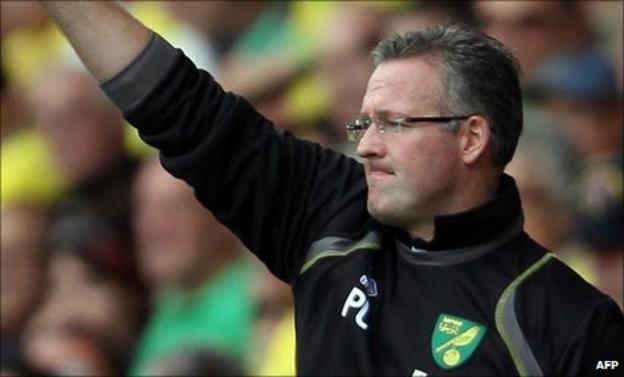 Paul Lambert has warned his Norwich City side to cut out individual mistakes in the Premier League.
"There are no ifs or buts, we have to learn that top players hurt you," Lambert told BBC Radio Norfolk.
"They only need one chance whereas somebody at a lower level needs three or four to score."
He added: "Top lads will score within a minute.
"We're just new to it, we have to learn really quickly that when you play against top players, they'll punish you.
"And at the other end of the pitch, when we get a chance, we have to score."
The result leaves the Canaries winless and with just two points after four games, but Lambert insists he is not overly worried.
"That's one thing, whether we win, lose or draw, I never get too up or too down and the lads are the same," he said.
"We're playing well, that's the pleasing thing, we just need to win."
Norwich felt they should have won a late penalty against Albion, when James Vaughan collided with Gabriel Tamas.
Referee Mark Halsey did not punish the Romanian defender, who has since been charged by the FA.
Meanwhile, at the other end, City conceded their fourth penalty in as many games, but Lambert has refused to blame officials for his team's lack of victories.
"I've been in the game too long," he said. "When it comes to looking for excuses, we know that's something we don't want to do - we've been beaten.
"We'll bounce back as strong as we can next week.
"But you're hoping somewhere along the line you get the decisions that your play merits."