Sion chase Uefa compensation for Europa League expulsion
Last updated on .From the section Football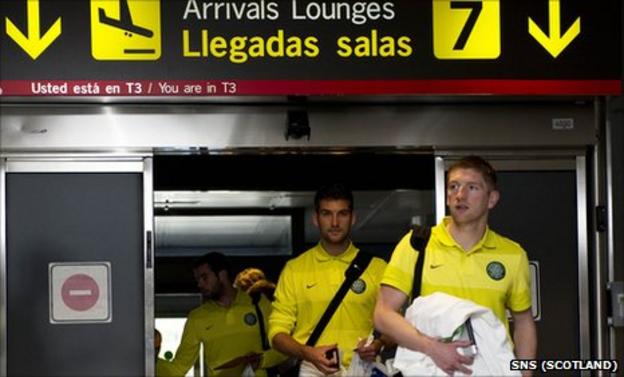 Sion have shelved plans to fly to Spain as Celtic prepare to take on Atletico Madrid in the Europa League.
Celtic replaced them in the group stage after it was ruled the Swiss side had fielded ineligible players in a play-off victory over Neil Lennon's team.
Uefa rejected an appeal from Sion, who are now seeking 4m euros in compensation through the civil courts.
Sion also say they will probably pursue the matter with the Court of Arbitration for Sport.
They could ask CAS to make an interim ruling on the case as before full evidence is presented, which may yet threaten Thursday's kick off at the Estadio Vicente Calderon.
A spokesman for Sion told BBC Scotland that Uefa's ruling against their appeal was "a clear case of misfeasance", adding that a "Swiss court won't let the case fall".
Nicolas Pillet, the club's head of communications, went on to say: "Uefa believes that it rules the world.
"The players and coaches are very disappointed. But we still believe we can integrate into the group stage later. We now wait for damages for the harm."
Sion claim the 4m euro sum is to compensate them for the qualification bonus they have missed out on.
On hearing of Uefa's ruling against the club's appeal, Sion defender Jose Goncalves told BBC Scotland that the fight for reinstatement would go on.
"I am really sad that they are not accepting the decision of the law. I can't understand," the former Hearts player said.
"I think at the moment we are doing anything possible to get back into the group stages. Not only for this Thursday, but also maybe for the next game.
"I'm very disappointed because we followed the rules and we went to the courts here because the president and the club are sure we are right.
"Uefa are going against the law. I just can't understand that and it is very difficult to accept this decision. No-one can understand this in Switzerland."