Marty Quinn says he can lift Glenavon off foot of table
Last updated on .From the section Football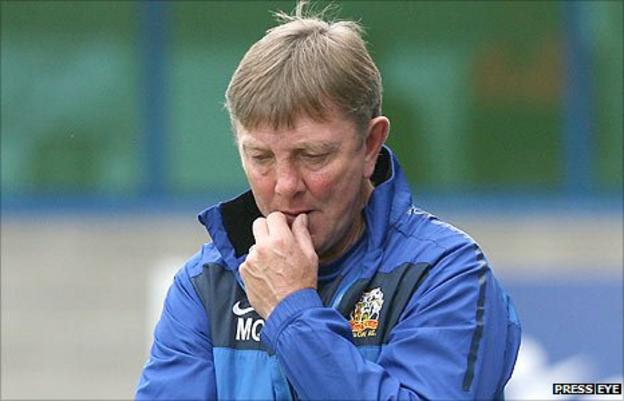 Glenavon manager Marty Quinn has admitted he would consider standing down - if results do not improve.
The Lurgan men are six points adrift at the bottom of the Premiership but Quinn said he was determined to sort it out.
"I do not think anyone else could come in and turn things around - I can do it," Quinn told the Glenavon website.
"We need a few results. But, if we do not get them, I am the sort of person who will say it is not good enough and that it is time for a change."
Glenavon travel to Dungannon Swifts on Saturday, having taken just one point from their opening seven matches.
"We have to get that elusive win. It will give us that confidence," added the Mourneview Park boss.
"At the moment we are over-elaborating. People are passing the ball when we should be having a pop at goal - passing the responsibility on to someone else.
"That is what happens when you are in the position we are in.
"But I think I can turn things around, get points on the board, and not be in this position at the bottom.
"I have not just brought in Packie McAllister as my assistant to then go and throw the dummy out.
"I do not work like that. I will be working very hard this week."