South Africa women's coach wants European friendlies
Last updated on .From the section Football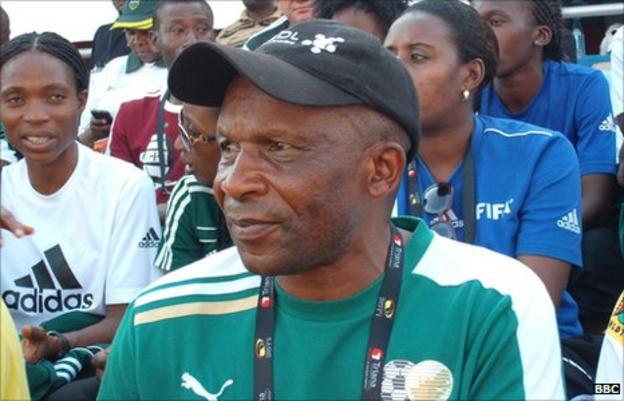 South Africa women's coach Joseph Mkhonza says his side needs to play European and Asian opposition as they prepare for next year's Olympic Games.
"We're not going to rest on our laurels, we're going to work very very hard," Mkhonza told BBC Sport.
"We're not going to play any Africans as we won't meet any at the Olympics."
"We need to play more friendlies with European and Asian countries."
Following Sunday's 1-1 draw in Addis Ababa in the second leg of their qualifier against Ethiopia, Mkhonza flew to Mozambique to watch South Africa's second-string women's XI at the All Africa Games.
The youthful side lost to Cameroon in the semi-finals as Mkhonza watched from the sidelines in Maputo.
"We want to make sure we field our strongest teams at the Olympics and we know it's not going to be an easy task," he said.
"We are prepared and we don't want to go to Londno to make an appearance - we want to go there to make a difference."
The coach added that his technical staff learned a great deal from last year's disappointment at the African Women's Championship (AWC), which they hosted.
South Africa lost to Equatorial Guinea in the semi-finals and so missed out on a place at the World Cup in Germany earlier this year.
Mkhonza says he knows what to expect in London after watching the World Cup.
"We're improving slowly but surely because this journey started last year at the AWC after we lost," Mkhonza said.
"In the post mortem, we worked out our girls were making a lot of mistakes in crucial areas and giving the ball away easily.
"We created a lot of chances that we didn't take.
"Now we're improving - this team has big potential but potential is not going to help us - hard work is what's going to help us."
South Africa will be joined at the London Games by either Cameroon or serial African champions Nigeria.
The second leg of their third round tie has been delayed because of the ongoing All Africa Games.
Nigeria lead 2-1 from the first leg but can expect a tough encounter in Cameroon on 22 October.