Liverpool to investigate 9/11 tweet from Nathan Eccleston
Last updated on .From the section Football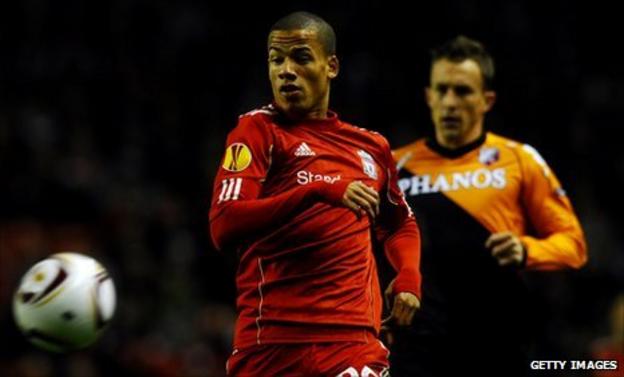 Liverpool are investigating striker Nathan Eccleston for comments on Twitter that suggested the 11 September attacks were not the work of terrorists.
A tweet that has since been taken down said: "I ain't going to say attack don't let the media make u believe that was terrorist that did it. #OTIS."
OTIS reportedly stands for Only the Illuminati Succeed.
The 20-year-old has made nine first-team appearances for Liverpool.
A club statement said: "The club takes this matter extremely seriously and senior club officials have informed Nathan Eccleston that we are undertaking an investigation into the circumstances surrounding these postings and will decide on an appropriate course of action."
Eccleston, who has over 39,000 followers on the social-networking site, has since tweeted: "If you don't like what I have to say un follow me!! Some things get took way out of context..."
The Manchester-born striker has spent time on loan at Huddersfield Town and Charlton Athletic, and has played for the England Under-17 team.
Eccleston's injudicious tweet is far from being the first time a professional sportsman has got into trouble through their use of social media - earlier this year former Liverpool player Ryan Babel was disciplined for tweeting an image that implied refereeing bias.
In another example, England cricketer Tim Bresnan rowed with a follower in 2009.
And according to a social media expert, clubs will have to bring in more stringent frameworks to cover players' use of Twitter and similar sites.
"Clubs need to behave like brands and put proper governance in place to dictate how the players - their employees - behave," Simon Rutherford, managing director of Cubaka:Social told BBC Sport.
"The club has a reputation to protect and in this case, with American owners, there needs to be an understanding of what you can and cannot say. The player's bio says that he is a footballer for Liverpool so that is why he gets so many followers, He therefore has a duty towards them in what he says.
"Players need to realise just how damaging a tweet can be, even if they hit the delete button, as he did in this case, someone will have a screenshot and it will be all over the internet. Clubs already give their players media training and increasingly we'll see that include use of social media."
And of the potential for clubs to ban players from using Twitter, Rutherford added: "That would be an extreme form of governance and if a club decided that the best way to protect its brand was to stop tweets then they could impose it.
"However [they would be better served] trying to embrace the medium and using it to get their message across."