Craig Stanley back in contention at Rovers - Buckle
Last updated on .From the section Football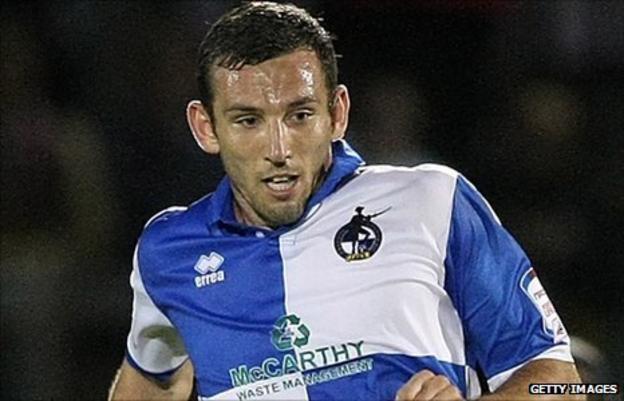 Boss Paul Buckle has said he will bring out-of-favour midfielder Craig Stanley back in to the Bristol Rovers team.
Stanley, 28, has not started a game since their 0-0 draw with Hereford on 27 August and was dropped completely for their last two league outings.
"He was brought off [against Hereford] and he was fed up and he walked off - I like my players to jog off," Buckle told BBC Radio Bristol.
"He knows about me and we are back on track now."
He added: "We as a club have got to get on with it and dig in - that was a conversation I had with Craig."
Stanley, who worked under Buckle while on loan at Torquay, was quick to set the record straight about his exclusion from the side, writing on twitter after their 4-1 defeat by Crawley: "Just for the record there's been no falling out with manager just wasnt selected today! Just need to work even harder to get my place back!"
And a week later he reiterated: "Just 4 record not injured just been not selected!"
And although Buckle confirmed he will now consider playing Stanley, he says the player will have improve his game to keep his place in the side.
"Craig is more than capable of getting his play up to the standard of someone like Stuart Campbell, where he deals with the horrible side of the game.
"You see Campbell running back and covering and spotting danger and it's the nasty side of the game and maybe that's something that's got to get into his game
"We're not going to have it easy against teams, it's going to be a fight, but he's there as back-up to come in."