'Naive' Man City will improve in Champions League, says Roberto Mancini
By Chris Bevan
BBC Sport at the Etihad Stadium
Last updated on .From the section Football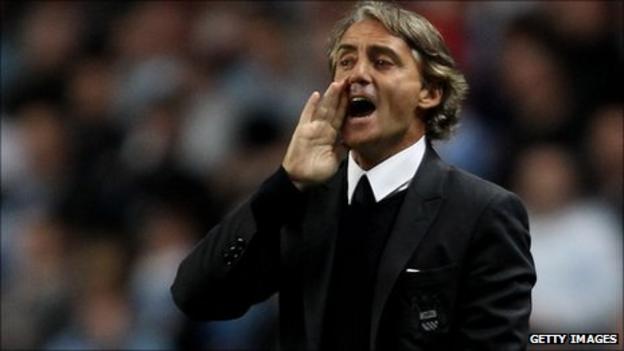 Manchester City manager Roberto Mancini admitted his side were "nervous and naive" on their Champions League debut - but is confident they will improve.
City stumbled to a point against Napoli, relying on Aleksandar Kolarov's stunning free-kick to cancel out Edinson Cavani's well-taken opener.
Mancini said: "For us, this game was very important. And because of this I think maybe the players were nervous."
He said he was confident his side could win their next match at Bayern Munich.
Mancini added: "It was our first Champions League game, and because of that all our players wanted to win it, and maybe all of them wanted to score.
"Was I surprised by that? Just how we played in the second half. But maybe it was just down to their desire and the pressure to perform well."
Addressing the daunting trip to Germany on 27 September, Mancini said he believed his players would benefit from the pressure being off them.
"We will do better in Munich," Mancini added. "We will be calm, more than tonight and we can win there. They are a fantastic side but we have a team that can win anywhere."
Mancini was unhappy that his side over-elaborated their passing when they went forward and felt that led to Napoli's breakaway goal.
"We need to understand how important it is to play easier, simpler football," he explained. "A team like us should not concede a goal like that. When we lost the ball we didn't have any midfielders in front of the defenders.
"For 10 minutes in the second half we left a lot of space for the Napoli players and they were very dangerous. This cannot happen. It is down to naivety.
"We need to improve as a team. We have got some fantastic players but every game in the Champions League is difficult, and different."
City, who have scored 15 goals in their four Premier League games so far this season, saw a host of early chances come and go before Napoli began to threaten after the break.
Mancini said he was pleased with the way his side started but accepted they found it more difficult to break Napoli down as the game progressed and did not blame Edin Dzeko or Sergio Aguero for failing to find the net.
"It is impossible for a striker to score three or four goals every game," Mancini said. "Napoli defended very well with three central defenders. It was difficult.
"It is important to play the ball around quickly up-front. We did this in the first half, and in the second less so, but I am still happy with their performance."