Thailand Fifa executive Worawi Makudi agrees to provide further evidence

By David Bond
BBC sports editor
Last updated on .From the section Football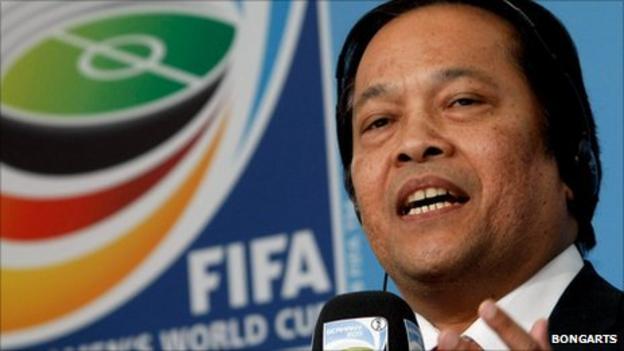 Thailand's Fifa executive Worawi Makudi has agreed to provide the governing body with additional documents relating to allegations that he personally benefited from football development grants spent to build facilities on land he owned.
Makudi has denied claims that he used money from Fifa's 'Goal programme' to develop Thailand's national football centre on the outskirts of Bangkok.
The longstanding executive committee member says the land belongs to the Thai FA and that the Goal cash was transferred to contractors.
Despite those denials, Fifa wrote to Makudi seeking an explanation. It is understood that he has already provided some paperwork relating to the Goal grant and the development projects but Fifa have asked for further clarification.
The 59-year-old has agreed to bring more documents with him to a crucial meeting of the Fifa executive committee in Zurich next week where president Sepp Blatter is expected to announce a series of key reforms to modernise football's ruling body.
Fifa says there is currently no ethics committee investigation into Makudi. But it is possible one could be opened if Fifa is unconvinced by the documentation Makudi brings with him to Zurich.
Earlier this year he was forced to deny allegations of corruption levelled against him by David Triesman, the former head of the Football Association and chairman of England's 2018 World Cup bid.
The Thai chief was later cleared by Fifa and in June he was appointed for a third term as president of the Football Association of Thailand.