Blackburn Rovers owners want fans to support Steve Kean
Last updated on .From the section Football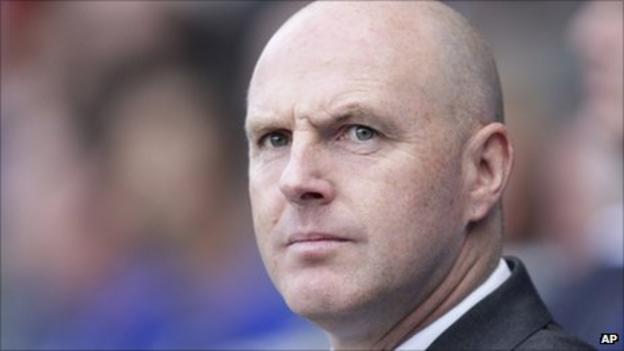 The owners of Blackburn Rovers have called for fans to support the team ahead of a planned protest march to demand manager Steve Kean be sacked.
Organisers expect 1,000 supporters to take part in the demonstration before the match against Arsenal on Saturday.
The family behind Venky's, the club's owners, said they understood supporters' "disappointment and anger at the recent performance of our team".
But they asked fans to "help players renew confidence in themselves".
Blackburn have failed to win in the Premier League so far, losing to Wolverhampton Wanderers, Aston Villa and Everton, before a 1-1 draw with Fulham on Sunday. Their only win came against League One side Sheffield Wednesday in the Carling Cup.
Last week a group of fans from internet sites sent a letter to Venky's urging them to sack Kean.
The Scot shrugged off that request and asked for them to "bear with us" as he beds in eight new signings, including Yakubu and Scott Dann.
But the group of supporters have now stepped up their dissent after the draw at Kean's former club Fulham. The demonstration march will begin at 1130 BST, with those involved planning to reach Ewood Park half an hour before the 1245 BST kick-off.
"We understand there is a sense of disappointment and anger amongst our fans at the recent performance of our team, which was not up to the expectation of fans," said the statement from owners Anuradha Desai, Balaji Rao and Venkatesh Rao.
"We fully understand your feelings and share your disappointment.
"At times like this, when the team is going through a bad patch, they need all the support and encouragement they can get from the fans to boost their morale and enable them to perform at their best.
"This is the time when fans can make a difference by lending their full support and to cheer the team on more vigorously than ever, and help the players renew the confidence in themselves.
"On behalf of Venky's, we would like to reassure the fans that we are fully aware of our responsibilities towards them, and the club and to football."