Jose Antonio Reyes eyes trophy for Atletico Madrid
Last updated on .From the section Football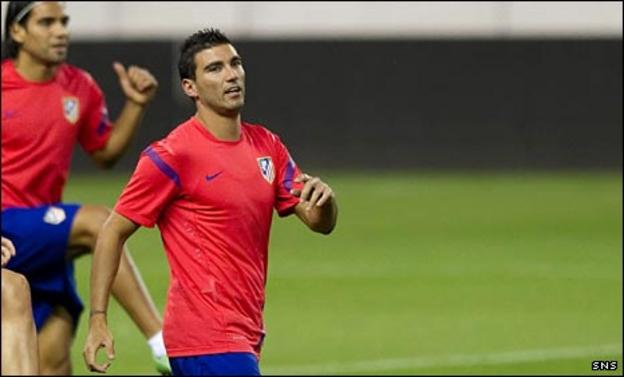 Jose Antonio Reyes hopes the Europa League Group I opener against Celtic is the first step towards Atletico Madrid repeating their 2010 tournament win.
The former Arsenal midfielder fondly remembers the 2-1 win over Fulham in Hamburg that secured his side's first European trophy in 48 years.
"It would be great to repeat that joy and happiness we felt within the dressing-room on the night we won the trophy," said Reyes.
"It was just fantastic."
Tottenham Hotspur manager Harry Redknapp says he is following the example of several English clubs by using the tournament to give younger players some European experience.
And Celtic manager Neil Lennon has said that Sunday's Old Firm derby in the Scottish Premier League against Rangers is more important than the match in the Vicente Calderon Stadium.
But Reyes insisted: "It is a very special competition.
"The games are seen all over Europe, it is a very exciting competition to play in and it is a great feeling to win it.
"Obviously we will be going all out to win.
"It is important to get off on the right foot with a victory and that is the aim."
Celtic have won only once in their last 30 trips abroad and are back in the competition because Swiss club Sion were thrown out by Uefa for fielding ineligible players in both legs of their play-off tie.
After a goalless draw in Glasgow, Celtic lost 3-1 in Switzerland in what was another disappointing night in Europe for the Glasgow side, but Reyes insists he is ignoring such statistics.
However, Reyes stressed: "I don't think Celtic's away record previous to this game will influence things in any way."
After scoring 10 goals in their two Europa League qualifying ties, Atletico began their Primera Division campaign with a goalless home draw against Osasuna and a 1-0 defeat away to Valencia.
Coach Gregorio Manzano, though, is not worrying that his players have become goal-shy going into the fixture.
"We are not worried about that," he said. "We have had plenty of shots and we have been creating chances.
"In both games, we had chances to score and if we had then we would not be speaking about this subject now.
"Hopefully we can convert these chances against Celtic.
"I will be making changes in personnel but not the way we set up to play the game.
"We will stick with a 4-3-3 formation to get attacking players forward."